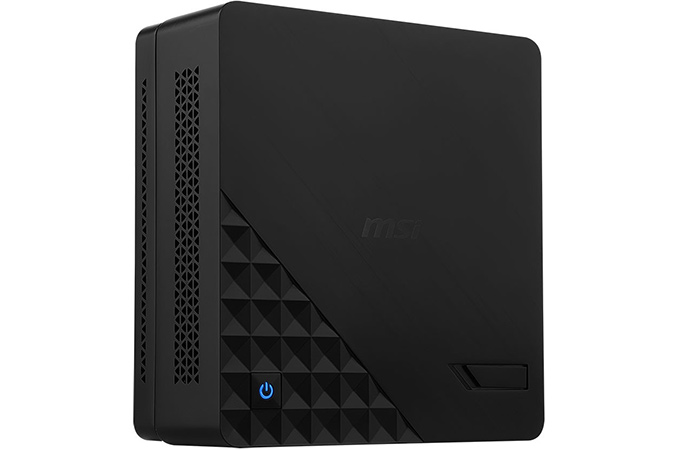 MSI this week introduced its all-new CUBI 2 Plus and CUBI 2 Plus vPro miniature personal computers based on Intel's mini-STX motherboard form-factor. The new PCs are slightly larger than Intel's own NUC systems, but they support CPU upgrades and are generally more powerful.
It is not a secret that sales of mainstream desktop computers are stagnating or even declining these days. However, there are two types of desktops, which popularity is actually growing: gaming PCs as well as small form-factor (SFF) systems. To further stimulate demand for miniature computers, Intel in the recent years introduced a number of all-new small form-factors, hoping to improve sales of its microprocessors. Last year the world's largest maker of CPUs introduced three new types of mini PC designs: Compute Stick, Mini Lake and 5" × 5". The first two are fully-integrated platforms that cannot be upgraded, they should be produced completely by PC makers or OEMs, which greatly lowers their design flexibility, something that is important for numerous resellers. By contrast, the 5" × 5" platform (which Intel calls mini-STX) features a CPU socket, two SO-DIMM slots, one or two M.2 slots, SATA connectors as well as various I/O ports. For many resellers, the mini-STX platforms should be more preferable than Intel's NUC because they allow installing different processors, depending on requirements, as well as use inexpensive standard coolers.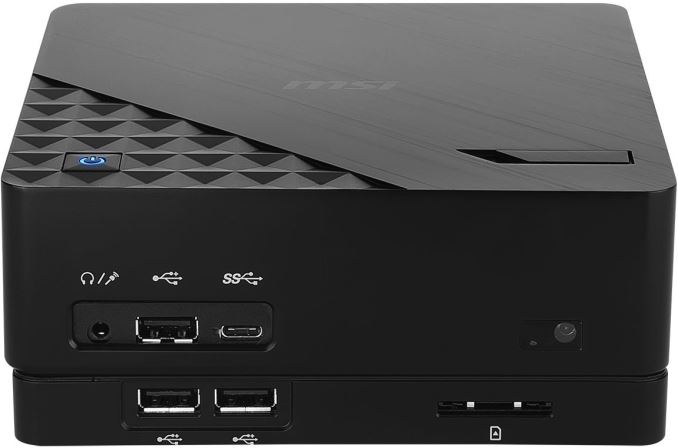 MSI is one of the first companies to offer SFF PCs featuring mini-STX form-factor motherboards. The MSI CUBI 2 Plus based on the Intel H110 platform controller hub (PCH) will target mainstream users, whereas the MSI CUBI 2 Plus vPro featuring the Intel Q170 PCH are designed for business and enterprise customers, who will take advantage of Intel's latest-generation vPro technology with Intel Authenticate feature. The systems can be powered by Intel's Core i3-6100T, Core i5-6500T or Core i7-6700T processors with 35W TDP and integrated graphics. The systems feature two SO-DIMM slots for up to 32 GB of DDR4-2133 memory, one M.2 slot for a Wi-Fi module, one M.2 for an SSD as well as one SATA port for storage devices.
MSI CUBI 2 Plus Specifications
CUBI 2 Plus
CUBI 2 Plus vPro
CPU
Intel Core i3-6100T (2 cores, 3.20 GHz, 3 MB LLC)
Intel Core i5-6500T (4 cores, 2.5 GHz/3.10 GHz, 6 MB LLC)
Intel Core i7-6700T (4 cores with HT, 2.8 GHz/3.6 GHz, 8 MB LLC)
PCH
Intel H110
Intel Q170
Graphics
Intel HD Graphics 530 with 24 execution units
Memory
Two SO-DIMM slots, up to 32 GB of DDR4-2133
Storage
One M.2 slot for SSDs
One SATA connector for 2.5" SSD or HDD
Wi-Fi
802.11ac + BT 4.0 or 802.11b/g/n
Ethernet
Gigabit Ethernet with RJ45 connector
Display Outputs
1 HDMI,
1 DisplayPort
Audio
TRRS connector for headset with microphone
USB
1 USB 3.0 type-C (5 Gbps),
2 USB 3.0 type-A (5 Gbps),
4 USB 2.0 (including one with charging capabilities)
Other I/O
SD card reader
Dimensions
155.3 x 147.9 x 58.6 (mm)
PSU
External, 90 W
I/O capabilities of the MSI CUBI 2 Plus PCs are pretty rich: one USB 3.0 type-C (5 Gbps), two USB 3.0 type-A, four USB 2.0 (including one with charging capabilities), one DisplayPort, one HDMI, one Gigabit Ethernet connector. In addition, the system is equipped with one TRRS mini-jack and an SD card reader.
Both versions of the MSI CUBI 2 Plus will use Microsoft Windows 10 Home operating system, which is somewhat strange, given positioning of the version featuring Intel's vPro technology.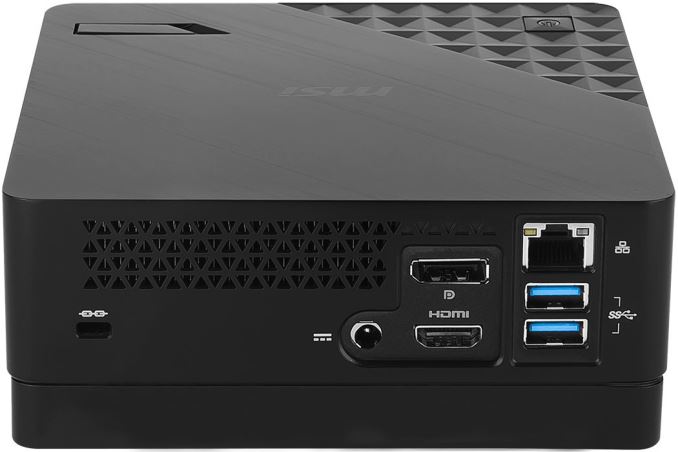 It is interesting to note that at present Intel does not offer Skylake-S CPUs with higher-end integrated graphics. The highest-performing integrated GPU inside Intel's socketed desktop chips is the HD Graphics 530 with 24 execution units (EUs). Meanwhile, Intel already offers its NUC systems with its Core i7-5557U CPU featuring the Iris 6100 graphics (48 EUs) or the Core i5-6260U with the Iris 540 graphics (48 EUs, 64 MB eDRAM). While such CPUs will offer lower general-purpose performance compared to Intel's socketed Skylake processors because of lower number of cores and lower clock-rates, their performance in graphics-intensive workloads will be higher. Moreover, Intel also offers mobile CPUs with the Iris Pro 580 graphics (72 EUs, 128 MB eDRAM), which can be integrated into NUCs and rival current-gen Skylake-S chips in all types of workloads. As it turns out, at present it is impossible to get a mini-STX system with proper integrated graphics, which means that if you want to get maximum graphics performance out of an SFF PC, you should wait for Intel's Skull Canyon NUC. While small form-factor systems are not expected to run demanding games, it does not hurt to have a performance headroom.
Exact prices of the MSI CUBI 2 Plus SFF systems will depend on their actual configurations.
Source: TechPowerUp