Setup, Usage and APIs
The setup process for the LIFX White 800 is similar to most other IoT devices. The unit boots up with its own SSID. A mobile device (iOS or Android) with the LIFX app pre-installed is made to connect to it. A LIFX account is associated with the device. It enables control over Internet with communication via LIFX's servers.
Dimming is achieved via the core thumb-wheel in the app's home page. Color temperature can be tuned using the dial around it.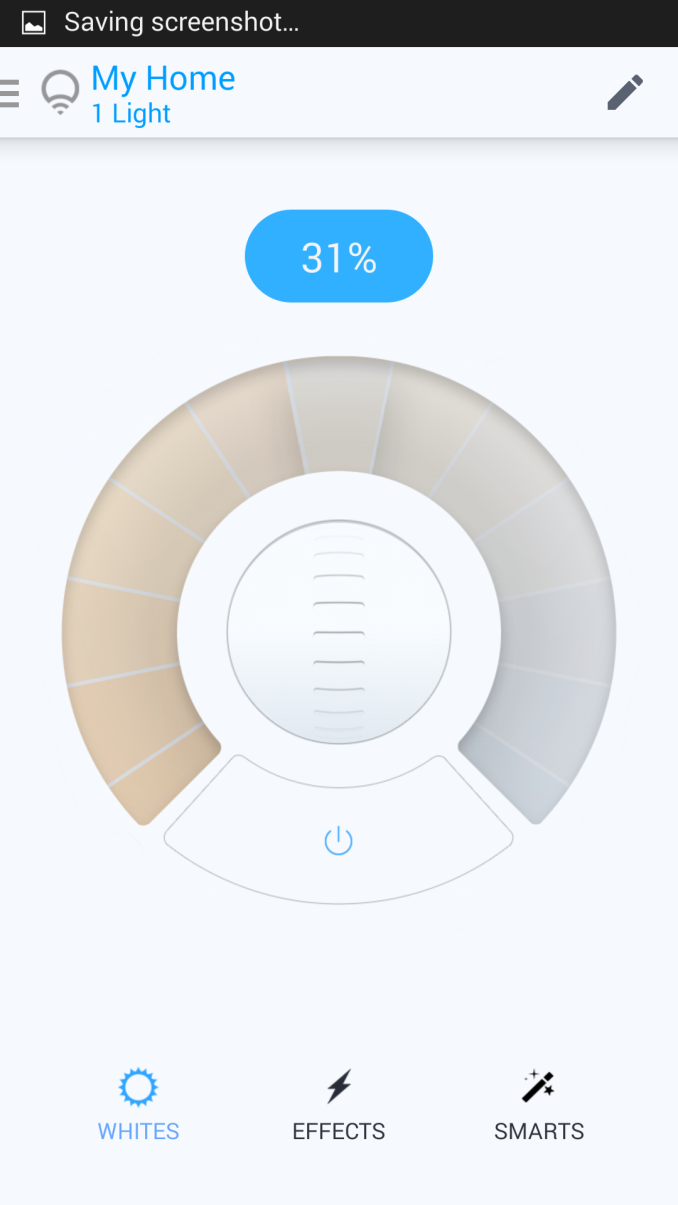 Many of the other app features such as themes are applicable to the multi-colored light bulbs. However, the scheduling feature works well with the White 800.
On the whole, the app is straightforward and easy to use.
We measured color temperature of the light bulb's out with a Samsung Galaxy S4 using a Light Meter app. The color temperature dial in the LIFX app was set to the two extreme temperature points for the screenshots below.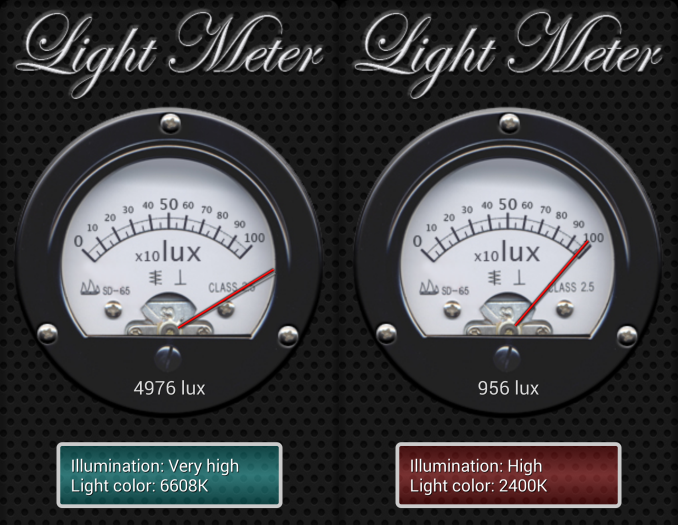 The color temperature measured as per the specifications and was obviously evident to the naked eye.
LIFX has been quite popular with power users. The communication protocol was reverse engineered, and there are multiple open source projects based on them. lifx-http, lifxjs and lifx-java are examples. Firmware v2.00 messed up many of these apps. However, it also brought along support for the official HTTP APIs. The APIs are a very good starting point and allow simple apps, but, unfortunately relies on the LIFX's web servers being up and the user's Internet connection being active (it is cloud-only). Recently, the official LAN-only documentation was updated. Hopefully, local HTTP APIs are made available soon - either officially from LIFX or via third-party developers.
Initially, LIFX didn't appear power-user friendly after the launch of v2.00 of the firmware, but things are slowly getting better with the publishing of the LAN protocol. The main item in our wishlist with respect to usage / APIs is a web interface for the bulb - the ability to control the light temperature and brightness using a web browser. This interface could also double up as an official 'mobile app' for platforms such as Windows Mobile.