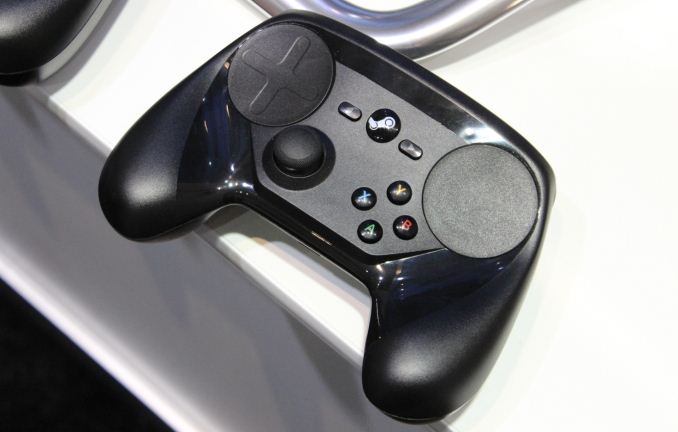 It's been a while since we had much to report on Valve's Steam OS and Steam Machine initiative. In the meantime things have been rolling along, and at GDC Valve announced a large number of updates. These cover a range of topic including a finalized Steam Controller, the new Steam Link, and a slate of Steam Machines from fourteen different manufacturers. Ian also covered the SteamVR aspect, so we won't rehash that here, as there's plenty of other items to digest.
First, let's talk about Steam OS a bit more. Based on a fork of Debian, Valve has released several major updates since Steam OS first entered public beta last year. The current build is SteamOS update 153, which includes NVIDIA 343.22 drivers and AMD 14.9 drivers, so right there we can see things are still lagging behind the current official drivers from AMD and NVIDIA. Of course, there are plenty of games that don't work natively with Steam OS (yet?), and newer drivers often focus on the latest games so it's not really critical to be on the latest driver release.
Perhaps more interesting is that Valve apparently feels Steam OS is now at the point where they're willing to start pushing it a bit more, and to that end they currently have a "Steam OS Gaming" sale going on – basically, games that are available (or coming soon) for Steam OS have discounts of 10-80% right now. The offer runs through March 9, and there are definitely some gems worth checking out, whether or not you have any interest in Steam OS.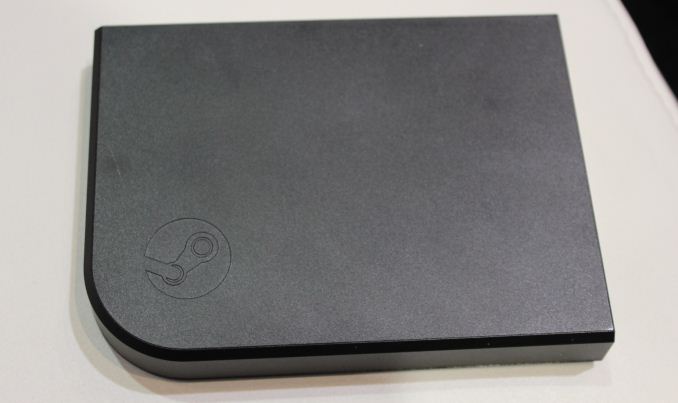 Image courtesy Ars Technica
Steam Link is a new device shown for the first time at GDC 2015. This is an in-home streaming device that will work with Windows, OSX, or Steam OS PCs and is priced at $49.99. It supports 1080p 60Hz streaming and is optimized for low latency. It also supports the Steam Controller, which has apparently reached its final form (for now?) and will be priced at $49.99 as well. The streaming capabilities are apparently pretty good, though availability isn't slated until November so there's still plenty of time to perfect things.
Also on display at Valve are 14 upcoming Steam Machines – some could probably be shipped now, but officially they're all slated to begin shipping in November. We'll cover these in alphabetical order, with a brief list of specs and expected pricing where applicable. First up, Alienware has a system starting at $479, but they don't provide much in the way of details; it will support Intel i3/i5/i7 processors, NVIDIA GTX graphics, 4-8GB RAM, and 500GB-2TB of storage. ASUS has their GR8S starting at $699 with Core i5/i7 processors, NVIDIA GeForce 9-series graphics, 4-16GB RAM, and 500GB-1TB HDD storage or 128GB-512GB SSD storage. CyberPowerPC's Syber brand Steam Machines will be a configurable build ranging in price from $499 to $1399; Syber will support both AMD and Intel platforms, so CPU options range from Athlon X4 840 up to an Intel i7-4790K, with the GPUs going from R9 270 2GB to GTX 980 4GB. The Digital Storm Eclipse is priced at $699 with a Pentium G3220, 8GB RAM, 1TB HDD, and a GTX 960 GPU.
One of the most expensive options is the Falcon Northwest Tiki Steam Machine, which uses the Tiki chassis that we've previously reviewed. The starting price is $1999 with a maximum price of $4999, but it's not clear what the base hardware will be. Falcon lists CPU support up to the i7-4790K, NVIDIA GPUs up to the Titan and Titan Z, 16GB of DDR3-1866 RAM, and up to 8TB of HDD storage (with SSD storage as an option as well). On the opposite end of the spectrum, Gigabyte has their BRIX Pro with i7-4770R and Intel Iris Pro 5200 graphics, making them the only Steam Machine on display to not use AMD or NVIDIA graphics. The price starts at $599 and the BRIX Pro supports two SO-DIMM slots and a single 2.5" drive. iBUYPOWER's SBX is one of the few AMD-only affairs, with a starting price of $459 that gets you an Athlon X4 840, R7 250X 1GB, 4GB RAM, and 500GB HDD. Maingear's Drift starts at $849 and supports up to i7-4790K, GTX 980, 16GB RAM, and 2x1TB SSD or 1x6TB 3.5" HDD – there was no mention of the base configuration, unfortunately. Origin's Omega is another high-end box, with up to i7-4770K (no i7-4790K?), 3-way GTX 980 SLI, 32GB RAM, and 14TB of storage; the base price is $899 while the maximum price is "$4999+".
Getting into companies that might not be as recognized by our readers, Materiel.net has a $899 cube system with i5-4440, GTX 960 OC, and an indeterminate amount of RAM and storage. Hmmm…. next also has a cubic NextBox priced from $799-$1299. The base CPU is an i3-4160 with i7-4790K at the top; GPUs range from GTX 750 to GTX 970, and you get 8GB RAM and 500GB-1TB HDD storage. Scan Computers offers their 3XS ST ranging in price from $999 to $1299, with Core i3/i5 CPUs, GTX 750 Ti/960/970 GPUs, 8-16GB DDR3, and 120GB and up on SSD storage – interestingly, they're the only company that doesn't list an HDD option. Webhallen has their S15-01 box for $949 with i5-4460, GTX 960 2GB, 8GB RAM, and 1TB HDD. And last but not least, Zotac has their $999 SN970 that uses mobile parts, pairing an i3-5010U with a GTX 970M 3GB, 8GB SO-DIMM, and a 1TB 2.5" 7200RPM HDD; this is one of the smallest Steam Machines on display, thanks to the low power components.
Wrapping up the Steam OS related announcements, there's still that lingering question of why anyone would want to get a Steam Machine running Steam OS as opposed to a Windows PC running Steam. It remains to be seen if games can be made to run faster/better under Steam OS than under Windows, and while the cost of the OS can be a factor it may not be enough in savings to make Steam OS preferable to Windows. We should have some better answers come November, when most of these products will launch.
Source: Steam Blog