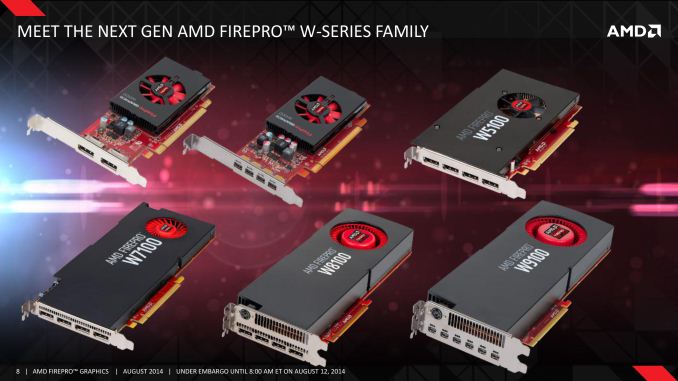 Kicking off a busy day for professional graphics, AMD is first up to announce that they will be launching a quartet of new FirePro cards. As part of the company's gradual FirePro refresh that began with the W9100 in April and followed by W8100 in June, today AMD is gearing up to refresh the rest of their FirePro lineup with new products for the mid-range and low-end segments of the pro graphics market.
Being announced today are the FirePro W7100, W5100, W4100, and W2100. These parts are based on a range of AMD GPUs – including Tonga, a new GPU that has yet to show up in any other AMD products – and are designed to the sub-$2500 market segment that the current W8100 tops out at. With a handful of exceptions, the bulk of these upgrades are straightforward, focused on making AMD's entire FirePro lineup 4K capable, improving performance across the board, and doubling the amount of VRAM compared to the past generation to allow for larger data sets to be used.
AMD FirePro W Series Specification Comparison
AMD FirePro W7100
AMD FirePro W5100
AMD FirePro W4100
AMD FirePro W2100
Stream Processors
1792
768
512
320
ROPs
?
16
16
8
Core Clock
?
930MHz
630MHz
630MHz
Memory Clock
5GHz GDDR5
6GHz GDDR5
5.5GHz GDDR5
1.8GHz DDR3
Memory Bus Width
256-bit
128-bit
128-bit
128-bit
VRAM
8GB
4GB
4GB
2GB
Double Precision
?
1/16
1/16
1/16
TDP
150W
75W
50W
26W
GPU
Tonga
Bonaire
Cape Verde
Oland
Architecture
GCN 1.1?
GCN 1.1
GCN 1.0
GCN 1.0
Display Outputs
4
4
4
2
Starting at the top, from a technical perspective the W7100 is the most interesting of the new FirePro cards. Whereas the previous-generation W7000 was based on a second-tier version of AMD's venerable Tahiti GPU, the W7100 gets a brand new GPU entirely, one that we haven't seen before. Named Tonga, this new GPU is a smaller, lower performance part that slots in under the Hawaii GPU used in the W9100 and W8100. However while AMD is announcing the W7100 today they are not disclosing any additional information on Tonga, so while we can draw some basic conclusions from W7100's specifications a complete breakdown of this new GPU will have to wait for another day.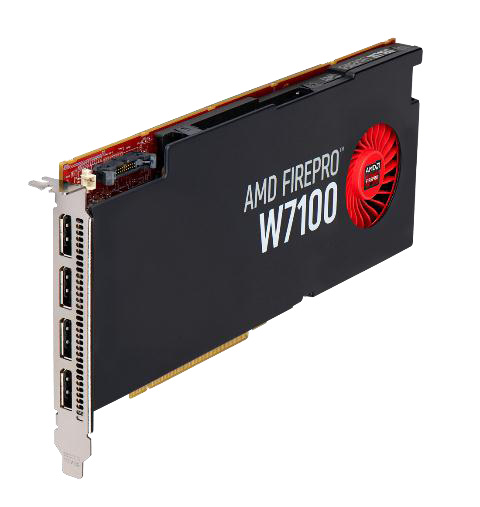 From a specification point of view AMD is not disclosing the GPU clockspeed or offering any floating point throughput performance numbers, but we do know that W7100 will feature 1792 stream processors. Coupled with that is 8GB of GDDR5 clocked at 5GHz sitting on a 256-bit memory bus.
The W7100 is designed to be a significant step up compared to the outgoing W7000. Along with the doubling W7000's memory from 4GB to 8GB, the Tonga GPU in W7100 inherits Hawaii's wider geometry front-end, allowing W7100 to process 4 triangles/clock versus W7000's 2 tris/clock. Overall compute/rendering performance should also greatly be increased due to the much larger number of stream processors (1792 vs. 1280), but without clockspeeds we can't say for sure.
Like the W7000 before it, the W7100 is equipped with 4 full size DisplayPorts, allowing for a relatively large number of monitors to be used with the card. And because it gets AMD's newest GCN display controller, W7100 is particularly well suited for 4K displays, being able to drive 3 4K@60Hz displays or 4 4K displays if some operate at 30Hz.
In AMD's product stack the W7100 is designed be a budget alternative to the W9100 and W8100, offering reduced performance but at a much lower cost. AMD is primarily targeting the engineering and media markets with the W7100, as its compute performance and 8GB of VRAM should be enough for most engineering workloads, or alternatively its VRAM capacity and ability to drive 4 4K displays makes it a good fit for 4K video manipulation.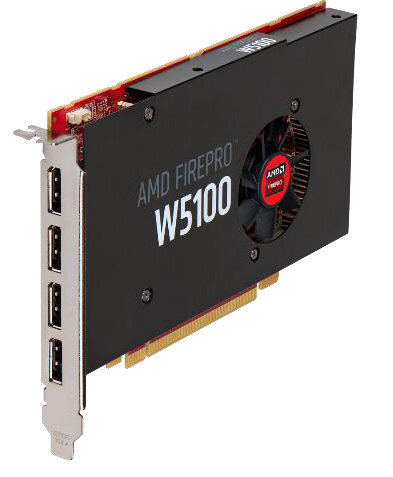 The second card being introduced today is the W5100. This part is based on AMD's Bonaire GPU, a GCN 1.1 GPU that has been in AMD's portfolio for over a year now but has not made it into a FirePro part until now. W5100 replaces the outgoing W5000, which was a heavily cut-down Pitcairn part.
In terms of specifications, the W5100 utilizes a slightly cut-down version of Bonaire with 768 SPs active. It is clocked at approximately 910MHz, which puts its compute performance at 1.4 TFLOPS for single precision. Feeding W5100 is 4GB of VRAM attached to a 128-bit memory bus and clocked at 6GHz.
Compared to the outgoing W5000 the W5100 gains the usual VRAM capacity upgrades that the rest of the Wx100 cards have seen, while the other specifications are a mixed bag on paper. Compute performance is only slightly improved – from 1.28 TFLOPS to 1.4 TFLOPS – and memory bandwidth has actually gone regressed slightly from 102GB/sec. Consequently the biggest upgrade will be found in memory bound scenarios, otherwise the W5100's greatest improvements would be from its GCN 1.1 lineage.
Speaking of which, with 4 full size DisplayPorts the W5100 has the same 4K display driving capabilities as the W7100. However with lower performance and half the VRAM, it's decidedly a mid-range card and AMD treats it as such. This means it's targeted towards lower power usage scenarios where the high compute performance and 8GB+ VRAM capacities of the W7100 and higher aren't needed.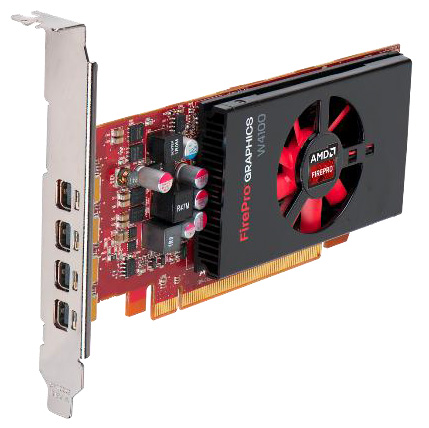 The third of today's new FirePro cards is the W4100. Based on AMD's older Cape Verde GPU, this is not the first time that Cape Verde has appeared in a FirePro product. But it is the first time that it has appeared in a workstation part, its previous appearance being the display wall niche W600. At the same time the W4100 doesn't have a true analogue in AMD's previous generation FirePro stack, which stopped at the W5000, so the W4100 marks a newer, lower priced and lower performance tier for FirePro.
With just 512 SPs active the W4100 tops out at only 50W power consumption, reflecting the fact that it is targeted towards lower power use cases. AMD has paired the card with 2GB of VRAM, and based on Cape Verde's capabilities we expect that this is on a 128-bit bus. AMD has not provided any more technical details on the card, but it goes without saying that this is not a card meant to be a performance powerhouse.
AMD's target market for this is lightweight 2D and 3D workloads such as finance and entry level CAD. The 4 mini-DisplayPorts allow the card to directly drive up to 4 displays, though because this is a GCN 1.0 GPU it doesn't have the same flexibility of the W5100.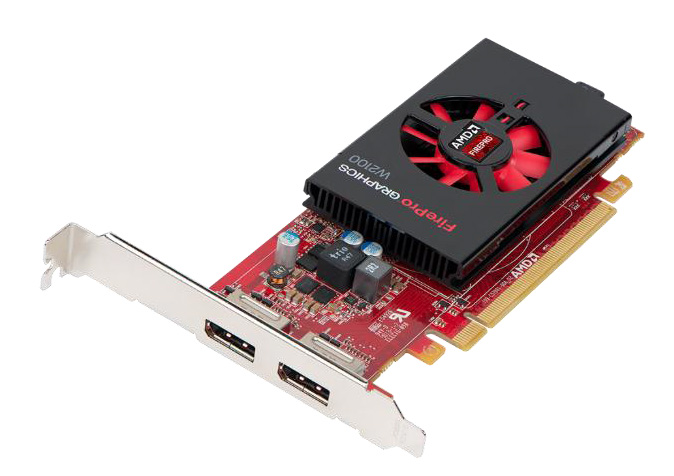 The final FirePro card being introduced today is the FirePro W2100, which is AMD's new entry-level FirePro card. Like the W4100 it had no true analogue in AMD's older product stack, but functionally it replaces the old Turks based V4900, a card which AMD kept around even after the launch of GCN to serve as their entry level FirePro product.
W2100 is based on AMD's Oland GPU, which marks the first time that this existing AMD GPU has appeared in a FirePro product. W2100 uses a cut down version of Oland with 320 SPs active and attached to 2GB of memory on a 128-bit bus. Oland is a very limited functionality GPU, and while it's more than suitable for basic imaging it should be noted that it doesn't have a video decoder.
At a TDP of just 26W, the W2100 is AMD's lowest power, lowest performance card. Functionally it's a cheaper alternative to the W4100 for users who don't need to drive 4 displays, with W2100 featuring just 2 DisplayPorts. The targeted market is otherwise similar, with a focus on lightweight 2D and 3D workloads over 1-2 monitors.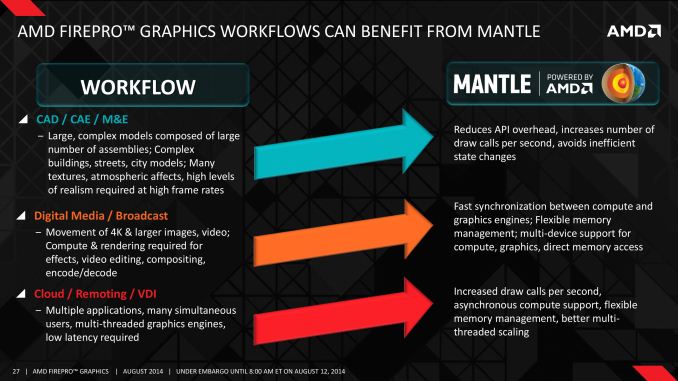 Meanwhile along with today's product announcements AMD is also announcing that they will be bringing their low-level Mantle API over to the FirePro family. The nature of the pro graphics market means that it will likely be some time before we see Mantle put in meaningful use here since the API is still under development, but once AMD gets the API locked down they believe that Mantle can offer many of the same benefits for professional graphics workloads as it can gaming. The greatly reduced draw call overhead should be a boon here for many 3D workloads, and Mantle's ability to more easily transition between compute and graphics workloads would map well towards engineering tasks that want to do both at the same time.
Wrapping things up, AMD has not revealed final pricing for these cards at this time, though we expect pricing to follow the previous generation W series cards. Meanwhile the W2100, W4100, and W5100 will be available next month. Otherwise no doubt owing to its use of the new Tonga GPU, W7100 will be farther out, with availability expected in Q4 of this year.