Single Client Performance - CIFS & iSCSI On Windows
The single client CIFS and iSCSI performance of the ioSafe 1513+ was evaluated on the Windows platforms using Intel NASPT and our standard robocopy benchmark. This was run from one of the virtual machines in our NAS testbed. All data for the robocopy benchmark on the client side was put in a RAM disk (created using OSFMount) to ensure that the client's storage system shortcomings wouldn't affect the benchmark results. It must be noted that all the shares / iSCSI LUNs are created in a RAID-5 volume.
The market doesn't have too many 5-bay NAS units. In fact, the only other 5-bay NAS unit that we have evaluated before is the LaCie 5big NAS Pro from early 2013. That unit was also based on the Intel Atom D2701, but carried only two GbE links instead of the four in the ioSafe 1513+. In terms of encryption support, vendors have two approaches - encrypt a particular shared folder or encrypt the full volume. Synology only supports folder-level encryption in DSM. The graph below shows the single client CIFS performance for standard as well as encrypted shares on Windows.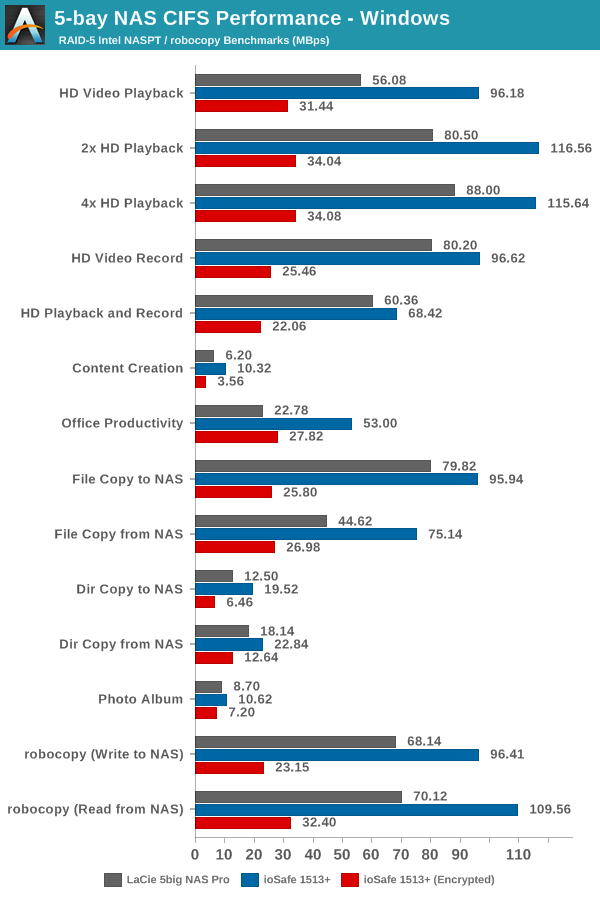 We created a 250 GB iSCSI target and mapped it on to a Windows VM in our testbed. The same NASPT benchmarks were run and the results are presented below. Note that we also present numbers for the 'Single LUN on RAID' mode which is supposed to provide the best access performance. It does indeed perform better with write workloads, but loses out on read workloads to the standard file-based LUNs.