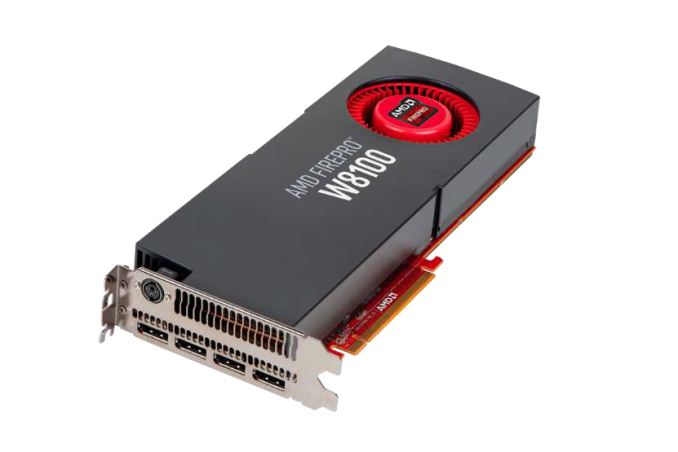 Following up a little less than 3 months after the launch of their new flagship professional graphics card, the FirePro W9100, AMD is back once again this week to further flesh out the FirePro Wx100 series. This time around AMD is announcing a lower tier counterpart to the W9100: the W8100.
Like the W9100 earlier this year, the W8100 is designed to be a follow-up to AMD's existing Tahiti based FirePro products, in this case the FirePro W8000. Based on a pared down version of AMD's Hawaii GPU – making this the obligatory second-tier part – the W8100 is intended to refresh AMD's professional lineup by improving performance while also improving AMD's feature set through the power and capabilities of the company's Hawaii GPU.
AMD FirePro W Series Specification Comparison
AMD FirePro W9100
AMD FirePro W8100
AMD FirePro W9000
AMD FirePro W8000
Stream Processors
2816
2560
2048
1792
Texture Units
176
160
128
112
ROPs
64
64
32
32
Core Clock
930MHz
824MHz
975MHz
900MHz
Memory Clock
5GHz GDDR5
5GHz GDDR5
5.5GHz GDDR5
5.5GHz GDDR5
Memory Bus Width
512-bit
512-bit
384-bit
256-bit
VRAM
16GB
8GB
6GB
4GB
Double Precision
1/2
1/2
1/4
1/4
Transistor Count
6.2B
6.2B
4.31B
4.31B
TDP
275W
220W
274W
189W
Manufacturing Process
TSMC 28nm
TSMC 28nm
TSMC 28nm
TSMC 28nm
Architecture
GCN 1.1
GCN 1.1
GCN 1.0
GCN 1.0
Warranty
3-Year
3-Year
3-Year
3-Year
Launch Price (List)
$3999
$2499
$3999
$1599
All-told, next to the W9100 the W8100 is a slower, less power hungry, and otherwise more affordable alternative to AMD's flagship FirePro. This Hawaii configuration is very similar to AMD's desktop Radeon R9 290, utilizing a 40 CU design (4 CUs disabled) to offer 2560 stream processors and 160 texture units. Meanwhile the ROP and memory bus remain untouched will the full 64 ROP plus 512-bit (320GB/sec) memory bus configuration active; however the W8100 is outfit with 8GB of GDDR5 versus the W9100's more extreme 16GB.
Clockspeeds are down from the W9100, dropping from 930MHz to 824MHz. Between the clockspeed reduction and the reduction in stream processors, this puts theoretical compute performance at 4.2 TFLOPS single precision or 2.1 TFLOPS double precision, with W8100 retaining Hawaii's native ½ rate double precision execution speed. These reductions have also brought power usage down from W9100's 275W to just 220W, allowing W8100 to be used in more constrained workstations that can only handle a 225W (6pin + 6pin) video card. Ultimately compared to the older W8000, the W8100 ends up consuming around 31W more power, but it also significantly improves over W8000's performance, especially in memory bandwidth constrained scenarios and in double precision operations (where theoretical performance has more than doubled).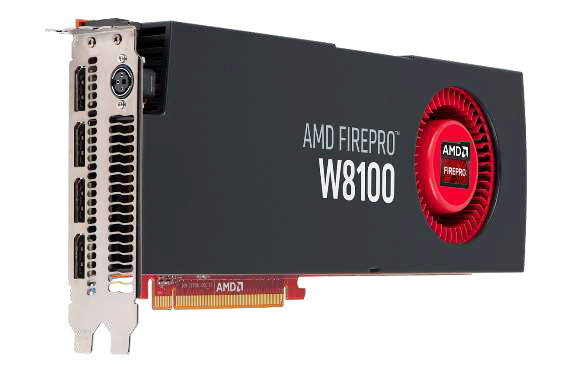 Moving on, physically the W8100 is very similar to the W9100. However here we see AMD drop the 6 mini-DisplayPorts for 4 full sized DisplayPorts. This is mostly for product differentiation, with W8100 topping out at 4 4K displays while W9100 can handle 6. The switch from mini-DisplayPort to DisplayPort however is consistent with AMD's position of using DisplayPort whenever possible, reserving mini-DisplayPort only for use in setups where the larger DisplayPort cannot fit.
As with the W9100, AMD is strongly targeting the mixed graphics/compute workload market with the W8100, banking on the Hawaii GPU's ability to efficiently handle both tasks. This includes a strong emphasis on CAD and CAE, along with GPU compute-accelerated media creation and processing. To that end the W8100 will also be a part of AMD's Ultra Workstation initiative, allowing either W8100s or W9100s to be used in Ultra Workstation branded machines.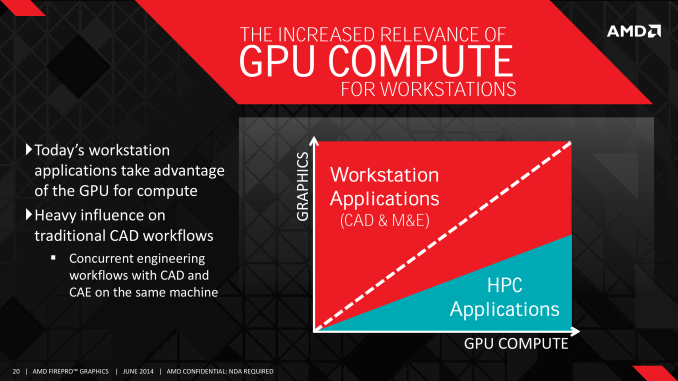 AMD's principle competition for the W8100 will be NVIDIA's Quadro K5000, and to some lesser extent the K5000 + Tesla K20 Maximus configuration. K5000 is based on NVIDIA's GK104, and on its own is a capable graphics card but lacks the kind of compute performance that GK110 products such as Tesla K20 can provide. Consequently AMD is pitching W8100 as an alternative to NVIDIA's ecosystem, offering strong compute and graphics performance in a single card, and at a lower price than a comparable Maximus setup.
Finally, given their intention to directly compete with the K5000 AMD will be pricing W8100 similarly, which would put the list price at $2499 and retail prices at around $2000. AMD tells us that W8100 cards are already shipping to channel partners now, and should be available in the channel in the middle of July.