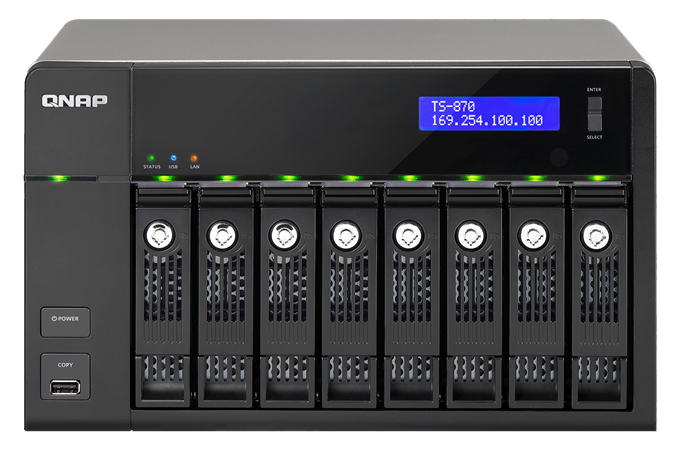 10 GbE capability in off-the-shelf NAS units have most remained in the realm of rackmount models. Today, QNAP is introducing the TS-x70 series desktop pedestal models with this capability. Coming in 4,6 and 8-bay varieties, the units also sport support for connecting multiple QNAP RAID expansion enclosures (REXP-1200U-RP / REXP-1600U-RP) to ensure scalability over time.
All the three models (TS-470, TS-670 and TS-870) are powered by dual-core Celeron CPUs running at 2.6 GHz (likely to be the Intel Celeron G1610) with 2 GB of DDR3 memory. Four GbE ports and an optional 10 GbE expansion slot are available. All models have two USB 3.0 ports and a HDMI port.
QNAP claims read speeds of up to 450 MBps and write speeds of up to 423 MBps with all four GbE links link-aggregated. The units come with the QTS 4.0 OS which has all the common virtualization certifications. The TS-470, TS-670 and TS-870 are all available now with expect street pricing around $1000, $1200 and $1400 respectively. A Pro version with an i3 CPU is expected to arrive later this year.
Source: QNAP