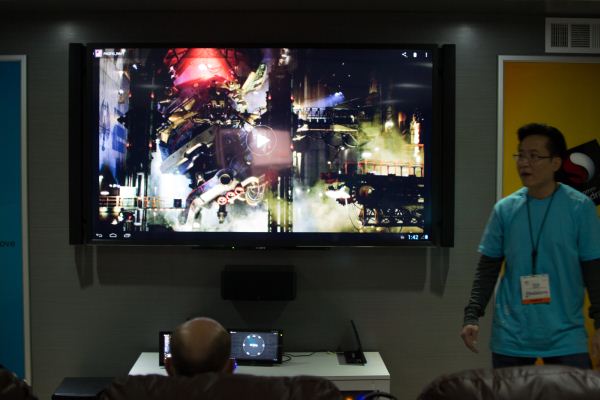 Qualcomm's already made waves here at CEs with their announcement of the new Snapdragon line-up, and to emphasize the point that Snapdragon 800 is more than just Krait 400, they've got several demonstrations set-up at their booth. We got a chance to step into their Snapdragon Theater to see what the new SoC brings to media playback.
We ran through several demos, but the key message was this: Snapdragon 800 is prepared for future technologies. Previewing 1080p content with 7.1 Surround Sound output over HDMI was smooth and compelling. Playback of 4k content, was equally impressive. But the real surprise was a collaboration with DTS, for something they're calling Headphone:X. An audio demonstration is played out of each speaker in the 7.1 set-up. We then slipped on headphones and the same demonstration was played through them. The effect was entirely convincing. Slipping the headphones off mid-demo revealed that their was no mistake, the speakers were silent. All the audio was coming through the phones.
At present, Headphone:X is implemented on the CPU, though they have other test devices where it is run through their updated Hexagon DSP. Their new video decode hardware is capable of up to 4k footage at 30 fps, and that is only a fraction of all the updates they're leveraging in Snapdragon 800. All of their demos show off the potential of their new silicon, not just to us, but also to hardware partners who decide whether to implement all the features they have to offer. We can't wait to see who does, and to explore the limits of these new SoCs.