There hasn't been much in the way of mobile handset news out of CES 2013 this year, save some announcements by Huawei this morning. I didn't get a chance to make it into the Huawei press event, but instead caught up with Huawei at Pepcom this evening and got my hands on the three devices that were announced.
Huawei Ascend W1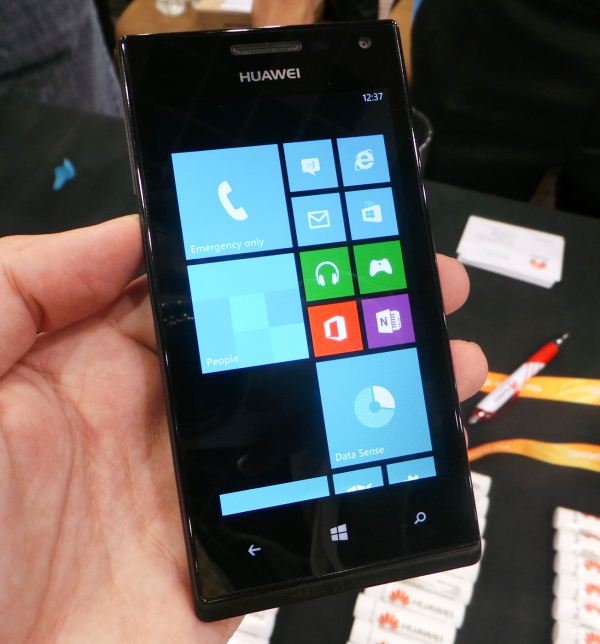 Probably the most intriguing handset from Huawei is their first Windows Phone 8 device, the Ascend W1 (H883G). Huawei is entering the market with a decidedly entry-level set of specs with the W1, but it's an impressive first beginning. The W1 is based around a 1.2 GHz Snapdragon S4 Plus (MSM8230) SoC and 512 MB of LPDDR2, and looking at the menu, resolution on the 4-inch IPS display is WVGA. There's a 0.3 MP front facing camera and 5 MP rear facing camera as well. The W1 comes with 4 GB of internal storage, but behind the removable battery cover is a microSD card slot. Those specifications align pretty closely with other midrange or entry level WP8 devices, like the HTC 8S, and there's a definite place for them in the grand scheme of things.
The hardware is a bit thicker than I'd like for a WP8 device, but the tradeoff gets you removable battery, microSD, and (given it's Huawei) probably one of the most affordable price points around. There's no word on what that eventual pricing will be or whether any operators have already expressed interest but I'd say Huawei making inroads with its entry level WP8 device is inevitable.
Huawei Ascend Mate
Next up are Huawei's two new Android phones, both based around (Huawei) Hisilicon's own K3V2 SoC. I've been trying to get an Ascend D1 in so we can take a closer look at Huawei's K3V2, which consists of 4 ARM Cortex A9 CPUs clocked at up to 1.5 GHz for one core, 1.2 GHz for all four, 16 core Vivante GPU, 2x32 LPDDR2 memory interface, and all built on 40nm process. I've been interested in the K3V2 for some time, as Huawei joins one of a small number of handset makers serious enough about being vertically integrated to make its own SoC and (in the case of the D2) also baseband.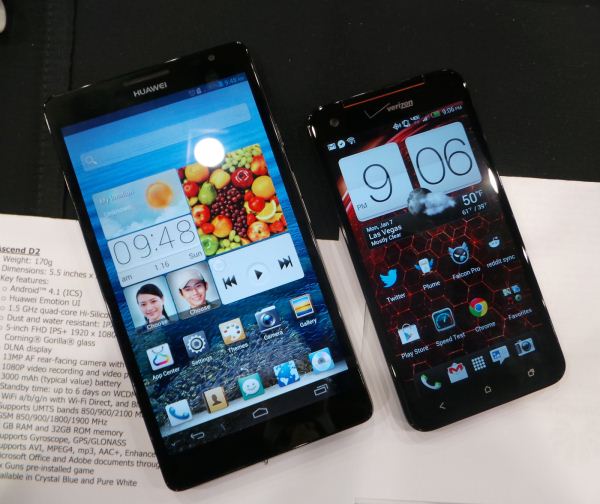 The Ascend Mate positively dwarfs the 5-inch HTC Droid DNA
Anyhow the real key pointer with the Ascend Mate is its gargantuan 6.1-inch IPS display which cirously enough is only 720p. The Mate is a seriously beefy phone, and although it fit in my hand I think manipulation does require two hands in this case.
The Mate has an 8 MP rear facing camera, 1 MP front facing camera, 802.11a/b/g/n, BT 4.0+LE, and runs Android 4.1. Just like a bunch of prior Huawei phones, the Mate also is pentaband WCDMA (850/900/1900/2100/AWS) courtesty Intel's incredibly ubiquitous XMM6260 baseband and RF combo. Battery is a respectable 4050 mAh (I'm guessing at 3.7V, so just shy of 15 watt-hours).
Huawei Ascend D2
The phone from Huawei Device I'm probably most interested in is actually the Ascend D2, which a much more modestly sized device with a 5-inch display, running Android 4.1. The D2 departs from the Mate by packing a much nicer speclist on paper. That 5-inch display is 1080p, rear facing camera is 13 MP, front facing is 1.3 MP, there's 2 GB of LPDDR2, 32 GB of internal storage, and the device is IPX5/4 dust and water resistent respectively.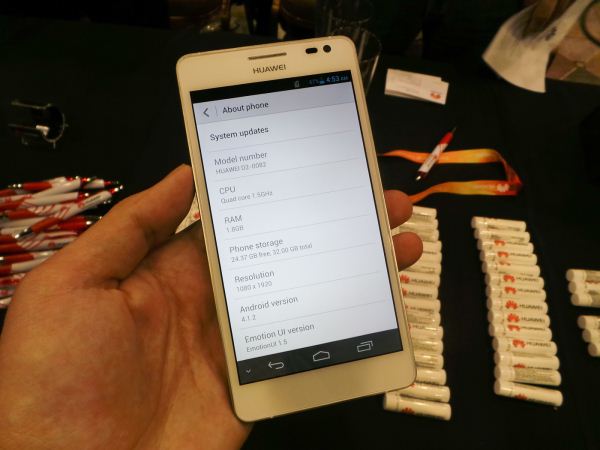 What's most interesting to me however is that this is Huawei Device's first smartphone with both their own SoC (again the K3V2 A9MP4 + Vivante GPU), but more interestingly a Balong V7R1 baseband for cellular connectivity. I've heard of the Balong 710 which is Huawei's LTE Category 4 baseband, but am not sure whether V7R1 refers to this part or something else which only tops out at WCDMA. Huawei clearly feels strongly about its modem, touting their DRX (Discontinous Recieve) and QPC (Quick Power Control) features quite vocally. Either way this is a very big interesting step for Hisilicon and Huawei to take and I very much want to play around with the Ascend D2 at some point.
Industrial design on the D2 clearly borrows from some other devices, but construction felt very impressive and solid. It has been clear for some time that Huawei can craft devices of their own at very competitive price points without sacrificing design.