Not content with just showing the Transformer concept to AIOs and Notebooks, ASUS had another couple of new interesting devices of note in our press conference today. The first is their new monitor range, earmarked as the DesignoMX Series. As a set of 'bezel free' models, the MX279H (27") and MX239H (23") are slated to offer 178-degree viewing angles, matte IPS panels, Bang and Olufson audio, and dual HDMI ports.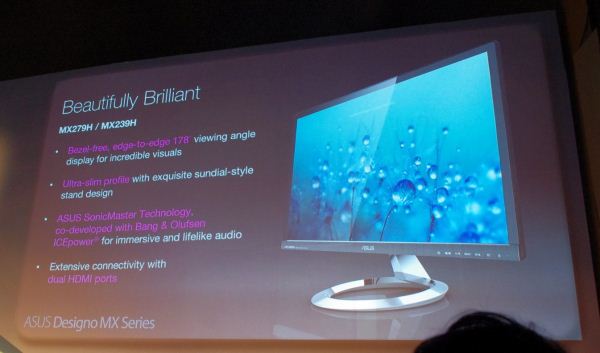 As for the ASUS Taichi, this is an interesting concept, if not a little abstract. Take your notebook, and imagine putting a second screen on the lid so that other people could see what you are writing, or watching a presentation that is being played specifically on that screen. Yes, that's the concept behind the Taichi - it's a single-plane, dual-screen Ultrabook.
Specifications for the Taichi were slim – Ivy Bridge processors in 11.6" and 13.3" form factors, SSD storage as well as being 'as light and thin as the ASUS Zenbook'.