Wrap-Up
As usual with a "launch" of notebook graphics, we are sadly lacking in test hardware. We hope to have plenty of notebooks ready for review in the coming weeks, and we need to take a closer look at AMD's Mobility Radeon 6000 lineup as well. Sandy Bridge is the big news in laptops and notebooks now, though, and NVIDIA's goal is pretty clear: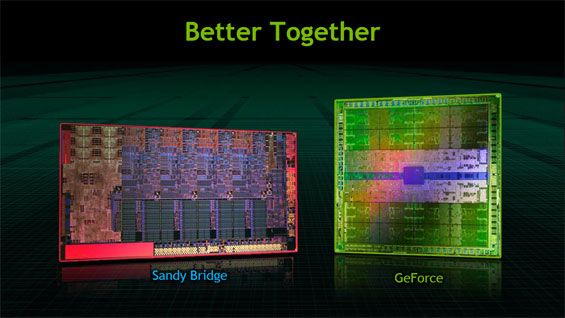 NVIDIA and Intel are friends these days.
The past year has certainly been successful for NVIDIA's mobile team. In late 2009, we had our first encounter with NVIDIA's switchable graphics, courtesy of the ASUS UL80Vt. We liked it but the lack of regular driver updates was a splash of cold water in the face, and let's be honest: even in late 2009 the GeForce G 210M was nothing to write home about. It managed to run most games at minimum detail and 1366x768, but asking for more than that was stretching things. The potential of switchable graphics was certainly enticing, though--get dedicated GPU performance when you need/want it, but don't sacrifice battery life for regular use.
In early 2010, NVIDIA called me and told me they wanted to fly me and a few other editors in for a Deep Dive on something they were calling Optimus. One of their PR guys told me he just referred to it internally as "the Jarred Edition of our mobile platform," which of course got me thinking of the possibilities. While we're still waiting for mobile GPUs that give us near-desktop performance while drawing less than 50W (which is basically what Sandy Bridge i7-2820QM does for CPUs), Optimus is certainly proving useful. Combined with the revamped Verde Driver Program, NVIDIA has become an easy mobile GPU recommendation.
ASUS' first foray into higher-performance laptops with Optimus came with the N61Jv, and it was new enough at the time to garner a Silver Editors' Choice award. The ASUS U30Jc also earned an Editors' Choice—this time Bronze—and was a great replacement for the previous UL80Vt recommendation. Alienware updated the M11x to include Optimus in July, addressing one of our biggest concerns with the design and also earning a Silver award. The ASUS N82Jv continued the pattern of solid performance, but we pined for a decent LCD and withheld an Editors' Choice award, stating that a larger battery and good LCD were the only things keeping it from Gold. It took two more months, but Dell finally delivered what we wanted with the XPS 15 L501x and Optimus GT 420M graphics—with the upgraded B-GR 1080p panel, it delivered on all fronts. (Unfortunately, the 1080p upgrade disappeared a month later, but hopefully it will come back with a Sandy Bridge refresh.)
You'll notice a pattern in the above, and other successful laptops like the Clevo B5130M and ASUS N53Jf used Optimus as well (not to mention the Sony VAIO Z that we never did get a chance to review). All told, NVIDIA reports over 100 design wins for GeForce in 2010, with over 50 designs leveraging Optimus. In fact, the only laptops to get an Editors' Choice award last year that didn't have Optimus came from ASUS: the Eee PC 1001P gave us a great LCD to go along with Intel's Atom N450, while the ASUS G73Jh (later updated to GTX 460M with the G73Jw) provided another good LCD with potent gaming performance for $1500. NVIDIA is poised to continue their mobile wins in 2011, with 60% more (over 200) designs from all the major OEMs set to come out.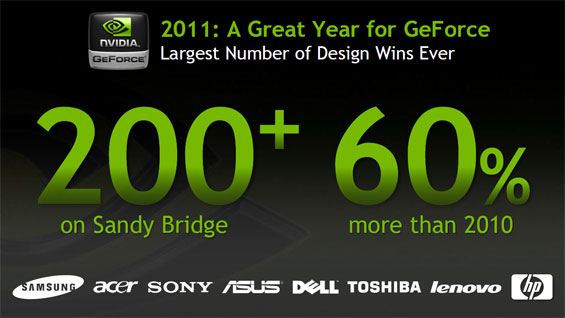 It's not hard to figure out why everyone is on the Optimus bandwagon these days. While AMD has some good graphics hardware, the lack of an Optimus equivalent for Intel CPUs means you get better battery life with similar performance from NVIDIA—or you get something with an AMD GPU and switchable graphics like the HP Envy 13, and you're left out in the cold on driver updates. That's a problem for Intel CPU+AMD GPU, and you can get around it by using AMD CPU+GPU; unfortunately, AMD is sadly quite a ways behind Intel in CPU performance and battery life. We'll see what Brazos can do for the netbook market soon enough, and Llano is coming later this year, but for high performance it will be very difficult to surpass Sandy Bridge. Take all of that and for the next six months, it looks like the majority of midrange and higher laptops will very likely use NVIDIA with Sandy Bridge.
The way I see it, there are really only a few reasons to dislike Optimus. The first is simple: you use Linux on your laptop and you want switchable graphics. Well, even that area is undergoing some change, and the Linux community may yet provide a solution—right now there are some laptops where you can switch between the IGP and discrete GPU in the BIOS. The other reason to dislike Optimus is similar, in that you're heavily dependent on NVIDIA to keep updating the drivers and game/application lists. I've encountered a few instances where programs didn't behave quite the way I'd like (i.e. they wouldn't use the dGPU when I wanted, or they would use the dGPU when I didn't want it), but most of these are simply in need of bug fixing, kind of like SLI support needs updated profiles to work sometimes. I suppose we could also state that sending the frame data over the PCIe bus uses more system resources—you use about 1GB/s for a 120Hz 1080p signal—but this so far has mostly affected games and benchmarks where you hit ultra-high frame rates. (As an example of this, the Wings of Fury test in 3DMark03 clocked 286FPS on 425M Optimus compared to 363FPS on HD 5650; normally, the HD 5650 is only about ~10% faster than the GT 425M, and since those numbers are using the AMD P520 CPU the NVIDIA chip would usually come out on top.)
None of these items are enough for us to recommend against Optimus, and while some people will feel differently it's pretty clear that notebook manufacturers like what they're seeing. Unless you're into the idea of disposable laptops, you probably want your system to last for several years. With more people purchasing laptops than desktops these days, greater flexibility is useful, and the best way to get that is to have a decent GPU in the mix. With Optimus, NVIDIA enables laptop manufactures to add a GPU without a ton of extra work (the displays are all still driven off the IGP), and they can turn it off when you don't need it. Users get the best of both worlds: performance and battery life, on demand. Manufacturers also avoid some of the technical support calls asking "why doesn't game X run on my system?" Telling them that their integrated graphics isn't fast enough or compatible doesn't win customer loyalty, even if it's true. Unless you're sure you don't need graphics, pairing Sandy Bridge with an Optimus GPU is still the most sensible choice in my opinion.
Looking forward to 2011, we now have the option to get everything we always wanted from a desktop replacement. Quad-core Sandy Bridge bested the fastest Clarksfield notebooks by over 50% in pure CPU performance, and it can still get down to ~10W power draw for a 17.3" notebook. Give us that sort of notebook with a good GPU (GT 555M or GTX 460M would be a good place to start!) and you have a notebook that truly can replace most modern desktops. Of course, while notebook manufacturers are doing the above, please quit with the lousy LCDs. Tablets are now shipping with IPS displays; can the laptops and notebooks get some luvin' as well? Also, stop with the glossy plastics, give us decent keyboards, and stop using 48Wh batteries in 15.6" and larger laptops! It's really not too much to ask.