Steve Jobs stood on stage and proclaimed the iPhone 4 would be the biggest advancement since the introduction of the original iPhone. It's a bit of a self fulfilling prophecy. Steve says it, folks get extra excited, and pre-orders go through the roof.
Granted it's not all fluff. The faster SoC, smaller size and new industrial design are usually enough to sell a smartphone, much less a new iPhone. But add in a ridiculously high resolution display and you've got the potential for cool.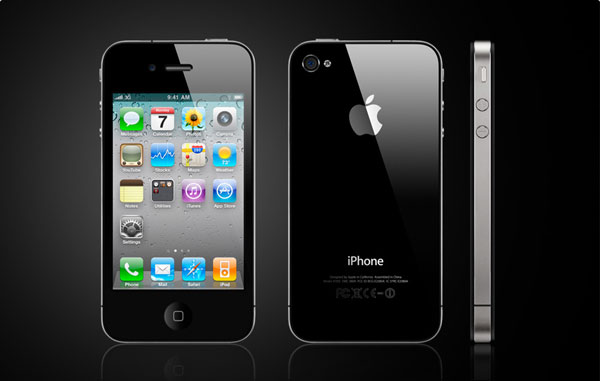 Yesterday the pre-launch festivities began with the official release of the fourth version of Apple's mobile operating system: iOS. The new release, dubbed iOS 4, is available for the iPhone 3G, 3GS and iPhone 4 although it only offers the full set of features on the iPhone 3GS and iPhone 4. Unfortunately iPad users will have to wait until this fall to get the update.
The biggest features from an end user standpoint are the introduction of folders as a way of grouping apps together and simplifying your the iOS interface and of course, multitasking.
Folders
On my iPhone I have five screens of apps. That's ridiculous. And as odd as this sounds, I can never find the flashlight app when I need it. When the iPhone 3G came out I mentioned that the simplicity of the iOS was being jeopardized. With apps and the new functionality Apple was trying to enable, everything got more cluttered. The original iPhone was a success due to how clean and efficient its UI was. While I believe that iOS3 still has the edge there, it's one that is quickly eroding.
Folders is Apple's temporary solution to the problem, and it seems to work. Press and hold your finger over an app icon on your home screen, wait for the icons to start jiggling, and then move one icon over another one. The two will form a group called a Folder and the Folder will be automatically named based on the type of apps in it. You can also rename the Folder.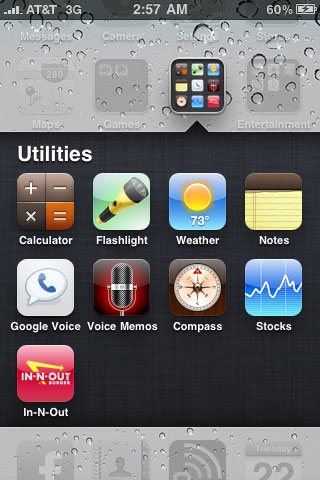 A Folder in iOS 4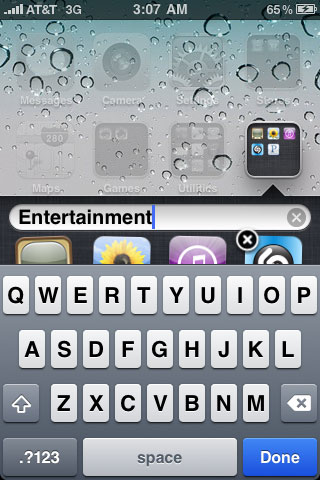 Renaming a Folder
With a bit of organization, I could reduce my five screens of apps down to two. With some pruning of unnecessary apps I got it down to one. Much better.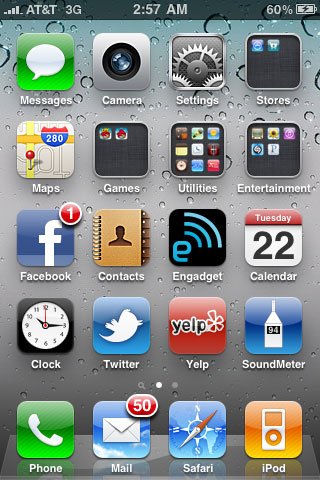 Like many features in iOS 4, Folders are both an improvement and a burden. The burden comes from the fact that you now have to tap, wait for a folder expansion animation and then tap again to launch an app in a folder. Folders also remain "open" until they're closed. Meaning if you launch an app in a folder, when you return to the home screen you'll actually end up in the last folder you were in. Hit the home button a second time to actually get to the home screen. I suspect this is a bug that Apple will fix however.
It's also very easy to forget what you put in each Folder (you can store a maximum of 12 apps in a Folder). The Folders all look the same and although they give you a little preview of what's inside it's often difficult to tell. I've found that the best solution for me is to keep frequently used apps directly on the home screen but put everything else in Folders. Keeping everything on a single home screen also really helps keep things tidy and efficient. If you do have a ton of apps and can't remember what folders you put them in, the Spotlight search is probably going to be even more important to you now than it has ever been.
I called Folders a temporary solution to the problem because eventually Apple will have to come up with new ways to deal with app and data organization, not to mention task switching. None of the features that show up in iOS should be a surprise, we're seeing a repeat of the history of the PC, just in revised form. Apple and Google (eventually Microsoft as well) are looking to recreate the evolution of the PC not just in hardware but software as well, but they're looking to do it without the mistakes. That's why Apple is so adamant about defending its closed platform.
When we get true multitasking and once these mobile devices turn into active productivity devices rather than passive consumption devices then we'll need much more than Folders. Remember the first time you saw the Start menu? You'll probably get a similar feeling in the next few years on a smartphone OS.