It's a Mad World: Not All SF-1200s Perform Alike
OCZ was the first from our community to really embrace SandForce. It's my understanding that the two companies have a very close relationship, and OCZ has committed a lot of resources to SandForce and its products. OCZ took the early risk that others would not. While other companies are working with SF today, OCZ appears to have been the first from the SSD makers we cover on the site.
In exchange for their cooperation and support, SandForce gave OCZ a couple of things. First was the unique SF-1500 used in the Vertex LE at competitive prices (and minus some of the enterprise features). This gave OCZ a huge head start on the competition. The second thing SandForce gave OCZ was the rights to an exclusive firmware for the SF-1200. This firmware would give OCZ the small file random write performance of the SF-1500, but with the rest of the feature set of the SF-1200. This special firmware is going to be used in the upcoming Vertex 2 SSD.
The rest of SandForce's customers would get the standard SF-1200 firmware, which allows the drive to run at 10,000 sustained 4K random IOPS. Other SF-1200 drives from OCZ, such as the upcoming Agility 2, would also use this standard SF-1200 firmware. The special firmware is only for the Vertex 2 at this point.
SandForce's firmware has been in release candidate (RC) stage for the past couple of months. Internally SandForce calls this version 3.0.1 and has communicated to all of its partners what RC vs. MP (mass production) firmware entails: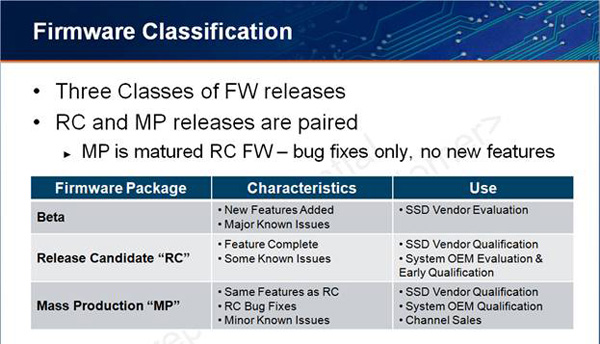 This slide is shared with all SF partners.
Two things are true about this RC firmware: 1) it doesn't limit small file random write speed on the SF-1200, and 2) there is a known reliability issue that could result in a dead drive (similar to what happened to my Vertex 2 Pro earlier this year).
And here's where things get messy. SandForce distributed 3.0.1 to all of its partners (so much for that exclusivity agreement), and some of its partners have decided to sample reviewers or even ship based on 3.0.1. Note that even OCZ's Vertex LE shipped using the SF-1500 version of this firmware. If SandForce indeed distributed the above slide to all of its partners, no drive should've shipped with RC firmware. That's a separate issue entirely and I've been working with both SandForce and the companies involved to see what we can do about curbing this (or at least get me the information so that I can make it clear when a product is using non-MP firmware).
The Corsair Force drive that has been sent out for reviews and that's currently shipping today uses SandForce's 3.0.1 firmware.
Naturally, I called up Corsair to figure out what's going on. Corsair explained to me that the reliability problem was related to a power saving feature on the controller that Corsair simply disabled and thus avoided the issue entirely. I have yet to find a repeatable way to reproduce the bug, but the power data from our testing corroborates what Corsair is saying: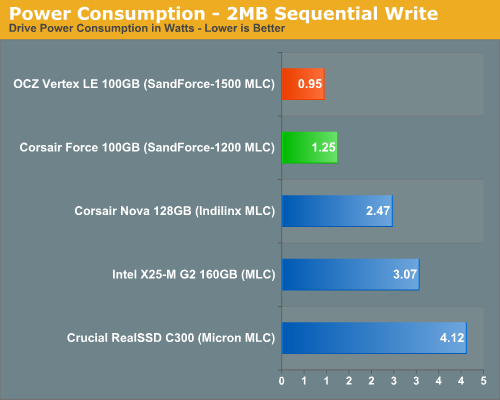 Corsair's drive uses more power than OCZ's Vertex LE. While it could be for a number of reasons, it's apparently due to this power saving feature being disabled. Unless I'm wrong, Corsair appears to have circumvented the known reliability issue and is shipping product it feels is safe into the market.
Now we get to the other problem. The performance of 3.0.1 is the same as OCZ's exclusive SF-1200 firmware, because the firmwares are the same. However SandForce has recently released its first MP firmware: 3.0.5. This firmware, as you'd expect, caps small file random write performance on all SF-1200 drives except for the Vertex 2 in accordance with SandForce's agreement with OCZ. The SF-1500 version of this firmware doesn't change performance, but it does supposedly fix the reliability problems and is available for Vertex LE owners here.
Corsair is currently testing the 3.0.5 revision for its drive but hasn't shared it with me yet. Corsair wasn't aware that performance dropped with this revision until I called yesterday. The release notes don't indicate anything of the sort, Corsair was kept completely in the dark on this. Why didn't SandForce tell Corsair? Because although it drops performance, the new firmware still runs the SF-1200 at its intended spec. The chip will continue to perform as advertised, just slower than with the RC firmware and slower than OCZ's Vertex 2.