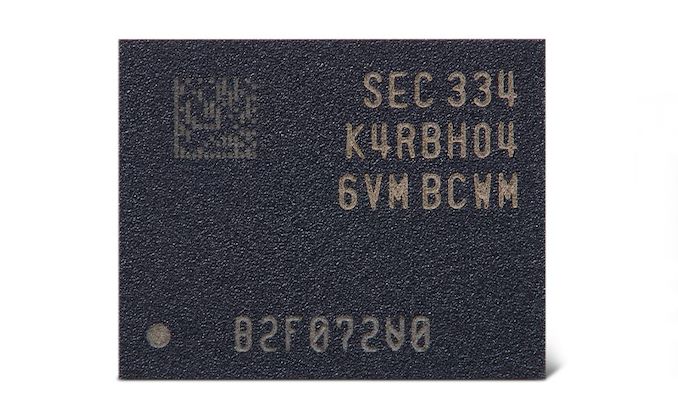 Samsung early on Friday revealed the world's first 32 Gb DDR5 DRAM die. The new memory die is made on the company's 12 nm-class DRAM fabrication process and not only offers increased density, but also lowers power consumption. The chip will allow Samsung to build record 1 TB RDIMMs for servers as well as lower costs of high-capacity memory modules.
"With our 12nm-class 32 Gb DRAM, we have secured a solution that will enable DRAM modules of up to 1 TB, allowing us to be ideally positioned to serve the growing need for high-capacity DRAM in the era of AI (Artificial Intelligence) and big data," said SangJoon Hwang, executive vice president of DRAM product & technology at Samsung Electronics.
32 Gb memory dies not only enable Samsung to build a regular, single-rank 32 GB module for client PCs using only eight single-die memory chips, but they also allow for higher capacity DIMMs that were not previously possible. We are talking about 1 TB memory modules using 40 8-Hi 3DS memory stacks based on eight 32 Gb memory devices. Such modules may sound overkill, but for artificial intelligence (AI), Big Data, and database servers, more DRAM capacity can easily be put to good use. Eventually, 1TB RDIMMs would allow for up to 12 TB of memory in a single socket server (e.g. AMD's EPYC 9004 platform), something that cannot be done now.
With regards to power consumption, Samsung says that using the new dies they can build 128 GB DDR5 RDIMMs for servers that consume 10% less power than current-generation modules built around 16 Gb dies. This drop of power consumption can be attributed to both 12 nm-class DRAM production node as well as avoiding the use of 3D stacked (3DS) chips that pack two 16 Gb dies into a single package.
Samsung is not disclosing the speed bins of its 32 Gb memory dies, but finished 16 Gb modules made on the same 12 nm-class technology offer a 7200 MT/s data transfer rate.
Samsung intends to start mass production of 32 Gb memory dies by the end of 2023, but for now the company isn't detailing when it plans to offer finished chips to customers. it's likely that the company will start with client PCs first, though whether that translasts into any cost savings remains to be seen.
Otherwise, for servers it usually takes a while for server platform developers and vendors to validate and qualify new memory components. So while Samsung has 1 TB RDIMMs in its future, it will take some time before we see them in shipping servers.
Source: Samsung