After the introduction of the Pentium II, there were rumors of Intel working on a 266MHz Socket-7 Pentium MMX processor, code-named the Tillamook. With current Pentium MMX 233's boasting a high yield, and overclockers pushing the limits of their chips by taking them up to speeds close to 300MHz a 266MHz Pentium MMX would be a severe threat to the Pentium II for those that didn't feel like jumping on the Slot-1 Bandwagon. Intel realized this, however they also realized that not everyone could afford the high cost of a Pentium II, as well as the fact that the Pentium II produced too much heat to be used as a notebook processor.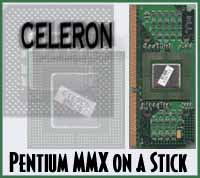 At the same time Intel was not ready to admit that their Slot Design had a flaw, and they were definitely not ready to go back to the Socket-7 world they had left behind...they needed a solution, and they needed it quickly.
Imagine all the power of a Pentium II, in the chip the size of a Pentium MMX. That was Intel's vision, however they had to make this wonder-chip interface with the current Slot-1 Design of Pentium II motherboards that they had committed to so strongly just a year ago. This chip would have to be geared towards the "low-cost" PC, for home/family use, which includes surfing the net, playing games, and running reference applications, etc...
Basically the demand for a low-cost Pentium II was made, so Intel, in response to this demand, removed two of the most expensive (and easily removable) parts from the Pentium II: The L2 Cache, and the Cartridge casing. By removing the L2 cache, you not only eliminate a considerable amount of heat, but you also decrease the price of the processor dramatically. Removing the L2 cache also removes the need for active/passive cooling that covers the entire length of the cartridge, therefore removing the need for the casing, which drives the cost of the chip down even more.
In the end, Intel produced the equivalent of a next generation Pentium MMX on a stick, a cache-less Pentium II, the Celeron. Without the meaty qualities of the Pentium II how will Intel's latest Vegetarian creation satisfy the hunger of power users without a large budget? Go to the fridge, grab some salad dressing, as AnandTech takes an in-depth look at low-cost PC's and Intel's Celery Stick.