Introducing BXS Series: Functional Safety for Autonomy
Besides targeting higher performance design targets, an area where Imagination is putting a higher level of focus on is the automotive and industrial markets. To cover these use-cases, Imagination is today also launching the new "BXS" series of GPU IP – where the S stands for safety.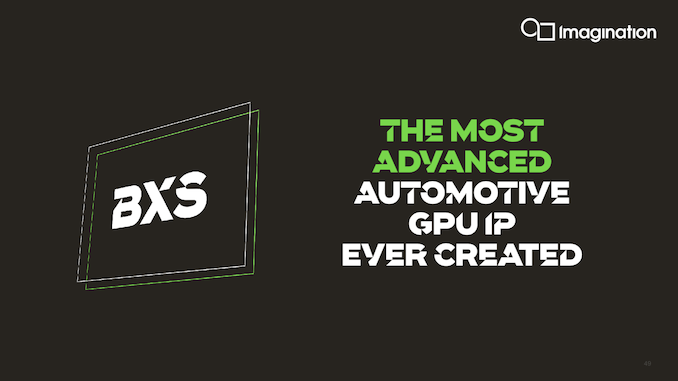 The new GPU IP line-up mirrors the standard BXT, BXM and BXE configurations, but adds support for ISO 26262 / ASIL-B functional safety features.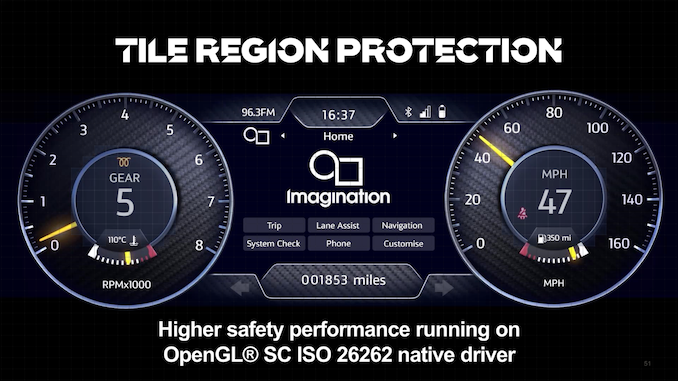 Imagination is introducing a new feature called "Tile Region Protection" in which a configurable region of render tiles on the render frame can be marked as safety critical, and for which the GPU can check for correct execution and rendering, allowing it to be ISO 26262 certified.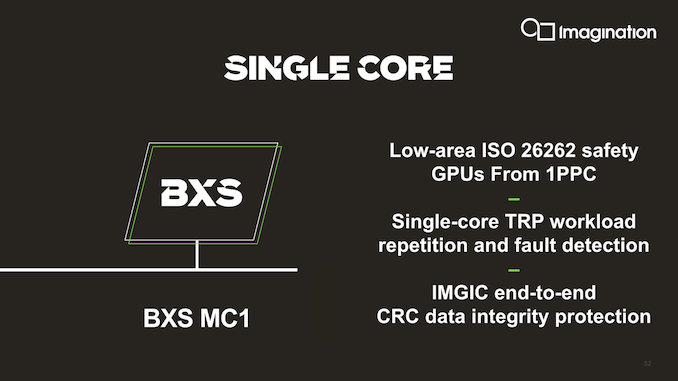 TRP is implemented from the smallest BXE-equivalent BXS GPU (Frankly Imagination could have done better here than calling the whole safety line-up BXS), allowing for work repletion to achieve fault detection. Furthermore, Imagination allows for end-to-end data integrity protection via CRC checking of all data going in and out of the GPU, further helping the IP achieve safety requirements.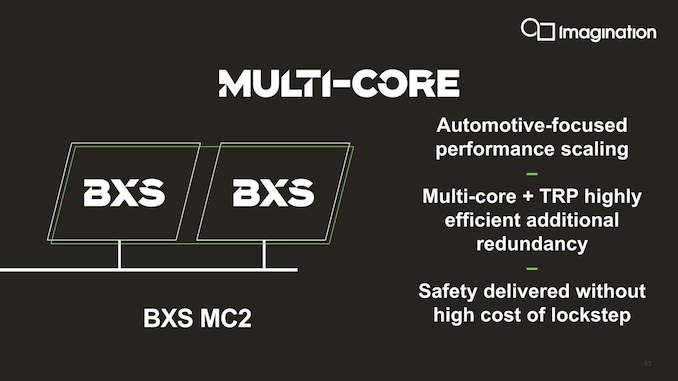 TRP require a single GPU to repeat work, which in turn would mean reduced performance in a system. A more performance-oriented way of scaling things would be a multi-GPU implementation.
A multi-GPU configuration in an automotive design would also server the purpose of partitioning the GPUs for multiple independent workloads; whilst in a consumer implementation you would expect the GPUs to mostly act and appear as a single large unit to a host, automotive use-cases could also have the multiple GPUs act completely independently from each other. It's also possible to mix- and match GPUs, for example a 4-core implementation could have 3 partitions, with two GPUs working together to pool up resources for a more demanding task such as the infotainment system, while two other GPUs would be handling other independent workloads.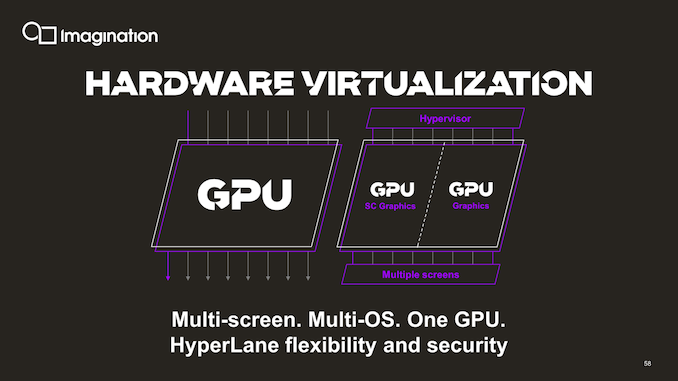 Imagination naturally also continues to support hardware virtualisation within one single GPU with up to 8 "hyperlanes" (guests). So, you could split up a 2-core design into 3 partitions, such as depicted above.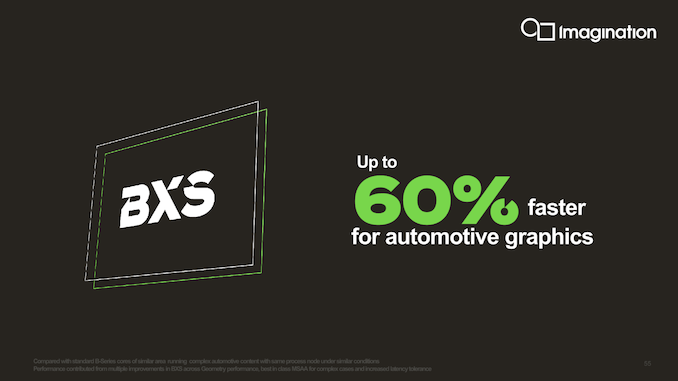 Beyond the addition of safety critical features on the BXS series, the automotive IP also features some specific enhancements in the microarchitecture that allows for better performance scaling for workloads that are more unique to the automotive space. One such aspect is geometry, where automotive vendors have the tendency to use absurd amounts of triangles. Imagination says they've tweaked their designs to cover these more demanding use-cases, and together with some MSAA specific optimisations they can reach up to a 60% greater performance for these automotive edge-cases, compared to the regular non-automotive IP.