PCIe 4.0
As the first commerical x86 server CPU supporting PCIe 4.0, the I/O capabilities of second generation EPYC servers are top of the class. One PCIe 4.0 x16 offers up to 32 GB/s in both direction, so each socket offers up to 256 GB/s in both directions, for a full 128 PCIe 4.0 lanes per CPU.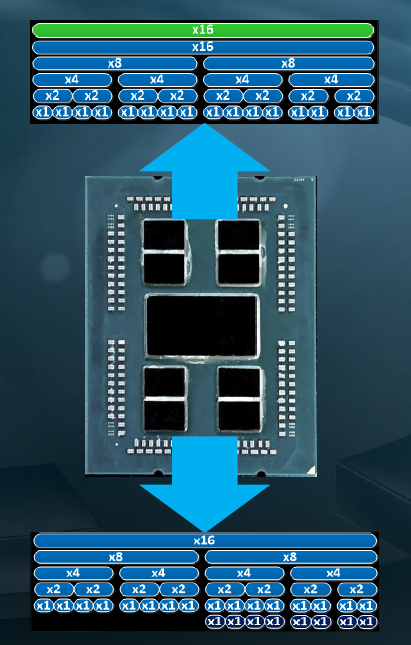 Each CPU has 8 x16 PCIe 4.0 links available which can be split up among up to 8 devices per PCIe root, as shown above. There is also full PCIe peer-to-peer support both within a single socket and across sockets.
With the previous generation, in order to enable a dual socket configuration, 64 PCIe lanes from each CPU were used to link them together. For EPYC, AMD still allows for 64 PCIe lanes to be used, but these are PCIe 4.0 lanes now. There is also another feature that AMD has here - socket-to-socket IF link bandwidth management - which allows OEM partners to design dual-socket systems with less socket-to-socket bandwidth and more PCIe lanes if needed.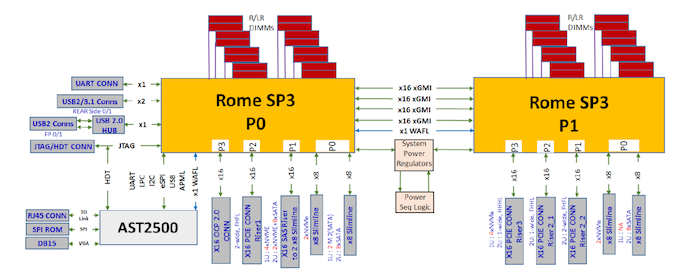 We also learned that there are in fact 129 PCIe 4.0 lanes on each CPU. On each CPU there is one extra PCIe lane for the BMC (the chip that controls the server). Considering we are living in the age of AI acceleration, the EPYC 7002 servers will be great as hosts for quite a few GPUs or TPUs. Density has never looked so fun.