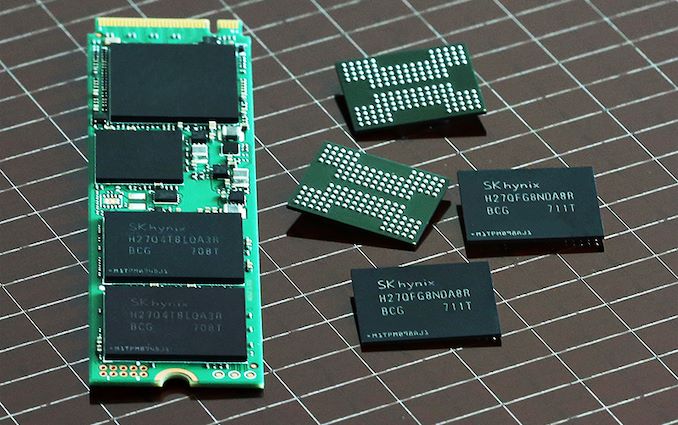 SK Hynix said that it would cut wafer starts of 3D NAND in the coming months more aggressively than it originally anticipated earlier this year. Besides, the company will reconsider plans to equip its M15 and M16 fabs, which will reduce its capital expenditures.
Oversupply of 3D NAND memory encourages makers of flash to reduce their output in a bid to stabilize prices. Earlier this year SK Hynix said that it would reduce 3D NAND wafer starts by 10% in 2019, but this week it said it had changed its plans and now intends to reduce wafer starts by 15% when compared to its 2018 output.
In Q2 2019, SK Hynix's NAND flash bit shipments increased by a whopping 40% quarter-over-quarter as the company ramped up production of 72-layer 3D NAND and because overall increased demand following a traditionally slow first quarter. Meanwhile, average selling prices of 3D NAND dropped by 25%, which is reason for concern for SK Hynix.
As SK Hynix (and other makers of NAND flash) transitions to more advanced 3D NAND designs with more layers (or more bits per cell in case of 3D QLC) and higher bit density, they increase their bit output, which to some degree create oversupply. As a result, cutting output of (usually previous-generation) wafers by 10% to 15% may not be enough to reduce bit output.
SK Hynix currently produces 72-layer 3D NAND for datacenter and mainstream SSDs. The company's 512 Gb 96-layer 3D TLC NAND entered production last November and the company intends to increase production of 96-layer 3D NAND shortly. In addition, SK Hynix recently started to ramp up production of 1 Tb '4D' TLC NAND featuring the company's charge trap flash (CTF) design featuring the peripheral under cells (PUC) architecture. These memory devices promise to significantly improve bit density over currently shipping 3D NAND, and further increase SK Hynix's 3D NAND bit output.
In addition to reduction of 3D NAND wafer starts, SK Hynix will also slow down expansion of cleanroom space at its M15 fab near Cheongju, South Korea, which can produce both DRAM and 3D NAND. In addition, it will also delay installation of equipment at its M16 fab near Icheon. While SK Hynix does not elaborate, it says that the decision would lower its 2020 CapEx "significantly" when compared to 2019, which may mean that new production capacities at the said plants may not come online next year.
Related Reading:
Source: SK Hynix