Visual Inspection
The MSI MEG X399 Creation is an E-ATX motherboard with a ton of features and a specification list which would make other boards on a different chipset wish they were as well equipped. The X399 Creation has a lot going on visually with a black PCB embossed with a light grey patterning which matches with the rear panel cover, as well as the power delivery and combined M.2/chipset heatsink. The board does have a lot of RGB LED lighting onboard which has been integrated into various areas such as the rear panel cover, chipset heatsink and just underneath the SATA ports to give users the ability to create an ominous rainbow glow; users can sync the RGB up using the MSI Mystic Light software. MSI has also implemented a single Addressable RGB LED strip as well as two 5050 RGB LEDs to further expand the rainbow disco capabilities of the board.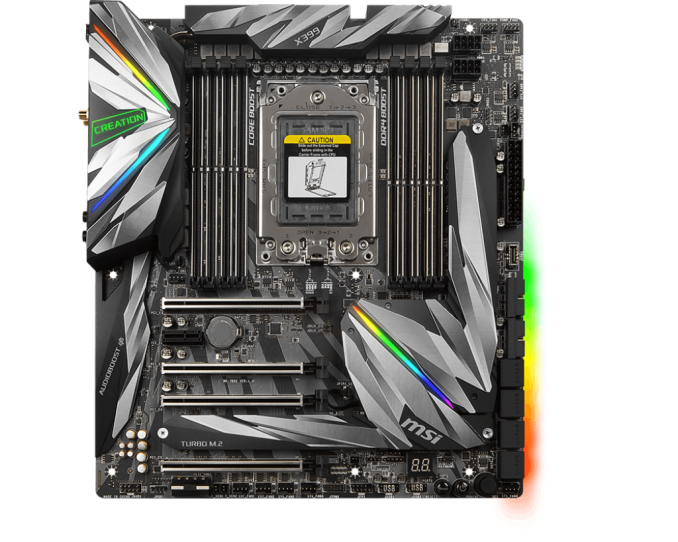 Memory support comes via eight RAM slots which support up to DDR4-3600. A maximum capacity of up to 128 GB can be installed across all the available slots, with both dual and quad channel memory being supported thanks to AMD implementing this into their X399 HEDT platform. The board has a total of four full length PCIe 3.0 x16 slots with each slot getting MSI's Steel Armor slot protection. All alone is a single PCIe 2.0 x1, which is nestled in between the top and second full-length slots. The MEG X399 Creation supports up to three-way AMD CrossFire and NVIDIA SLI multi-graphics card configurations which allows the final full-length slot to be used with the Xpander-Aero M.2 PCIe card to extend the board's storage capacity by up to four additional M.2 drives.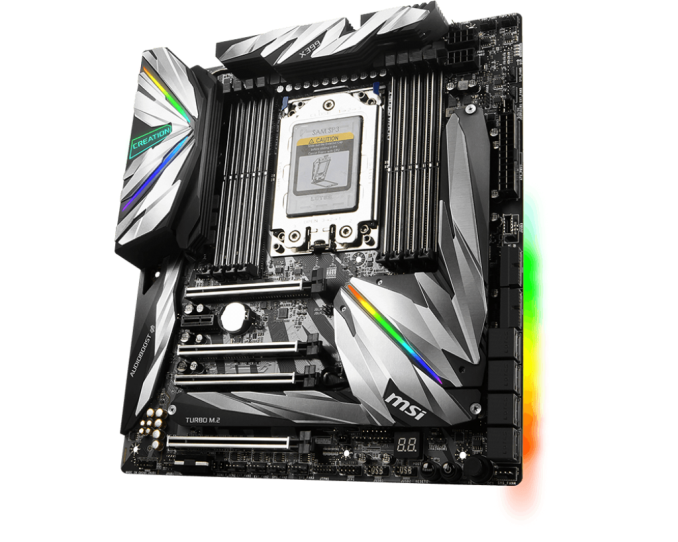 Cooling has also been another key focus with a combined total of ten 4-pin fan connectors. These are divided and located around the edge of the PCB into a single header for the CPU fan, a dedicated header for a water pump/AIO CPU cooler pump, five system headers and three extend fan connectors. This represents an upgrade in options over MSI's own X399 Gaming Pro Carbon AC motherboard which has a total of six 4-pin headers available.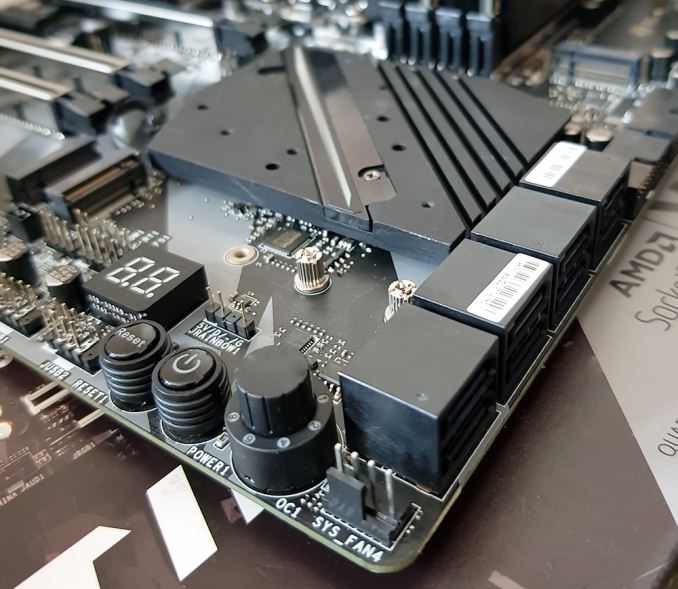 In addition to the extra four M.2 slots provided by the Xpander-Aero M.2 PCIe card brings to the table, MSI has implemented three M.2 PCIe 3.0 x4 slots, with two of the slots supporting up to M.2 2280 drives and one allowing for up to M.2 22110 drives to be installed. All three M.2 slots can support SATA based drives, and all benefit from MSI's M.2 Shield Frozr heatsink, with the M.2 array being arranged in an L shape around the X399 PCH chipset. Also featured are eight right-angled SATA ports with support for RAID 0, 1 and, 10 arrays. Featured just below the M.2 slots is an overclockers toolkit consisting of a power button, a reset button and MSI's Click OC dial which has seven different CPU overclocking states which users can access without manually changing settings. The frequencies generated completely depends on the installed processor. Each Game Boost setting was tested for in the overclocking section of this review. There is also a debug LED which is handy for overclockers and diagnosing POST issues, or lack of POST in some cases.

On paper, the MSI MEG X399 creation has a nineteen-phase power delivery, which it indeed does, but upon closer inspection, the CPU phase is actually split into two banks of eight due to MSI electing to make use of eight Infineon IR3599 doublers. The CPU area is formidable with MSI opting for sixteen Infineon TDA21472 dual power stages for the CPU VCore and CPU input voltage. Each of the sixteen TDA21472 power stages has its own dedicated choke with the CPU section taking direction from an International Rectifier IR35201 eight phase PWM controller operating at 8+0.
An International Rectifier IR35204 four phase controller is dedicated to memory/SOC, with this controller operating at 3+0 and controlling three Infineon TDA21472 power stages. In addition to this is four Texas Instruments NexFET 87350 MOSFETs for the memory, as well as a Primarion PV4210 digital PWM.
X399 Motherboard CPU Power Delivery
Motherboard
Controller
H-Side
L-Side
Chokes
Doubler
MSI MEG X399 Creation
IR35201 8+0
16
16
16
8 x IR3599
ASUS X399 ROG
Zenith Extreme
ASP1405
8+0
8
8
8
-
The X399 Creation also features dual 8-pin 12 V ATX power inputs to deliver power to the processor with up to 720 W of power being supported. The power delivery heatsink also feels good quality and I have no fears that it wouldn't be up to the task of cooling any current Ryzen Threadripper processor in ambient cooled situations.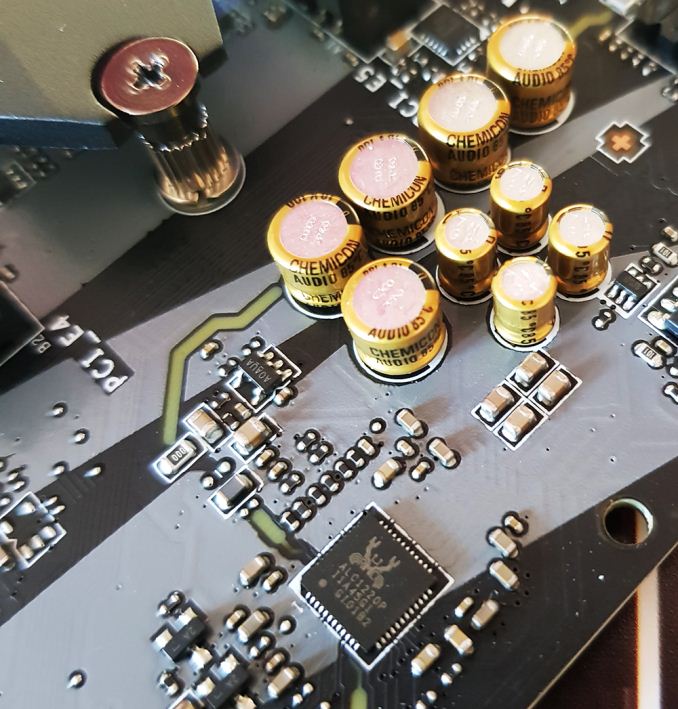 As with most consumer-level motherboards with an element of gaming focus, MSI has included a single Realtek ALC1220 audio codec, which offers support for 7.1 surround sound on the rear panel. In addition to the five 3.5mm gold plated audio jacks on the rear, ALC1220 also provides a single S/PDIF optical output. The Realtek ALC1220 codec itself doesn't feature any EMI shielding, but MSI has included audio PCB separation as well as seven gold audio capacitors, four of them hailing from Japanese manufacturer Nippon Chemi-Con.

The rear panel has a lot going on, with MSI looking to satisfy content creators and users that require plenty of USB real estate from their motherboard. USB-wise the rear panel has a total of eight USB 3.1 Gen1 ports, with four ASMedia ASM1464 USB 3.1 Gen1 USB controllers on the rear of the PCB. Adopters of 10 Gbps-capable USB devices will be pleased to know a single ASMedia 3142 USB 3.1 Gen2 controller is present which translates to both a Type-A and Type-C USB 3.1 Gen2 port being featured. There is two RJ45 LAN ports which are each powered by separate Intel I211-AT Gigabit controllers, while the five 3.5mm gold plated audio jacks and S/PDIF optical output are governed by the Realtek ALC1220 audio codec. The two antenna slots are for the Intel 9260 802.11ac Wi-Fi which allows the installation of the 2T2R antennas, which provides Wave 2 Wi-Fi functionality with speeds up to 1.73 Gbps, as well as offering Bluetooth 5 support to boot. Finishing off the rear panel is a clear CMOS and a BIOS Flashback+ button.
What's in The Box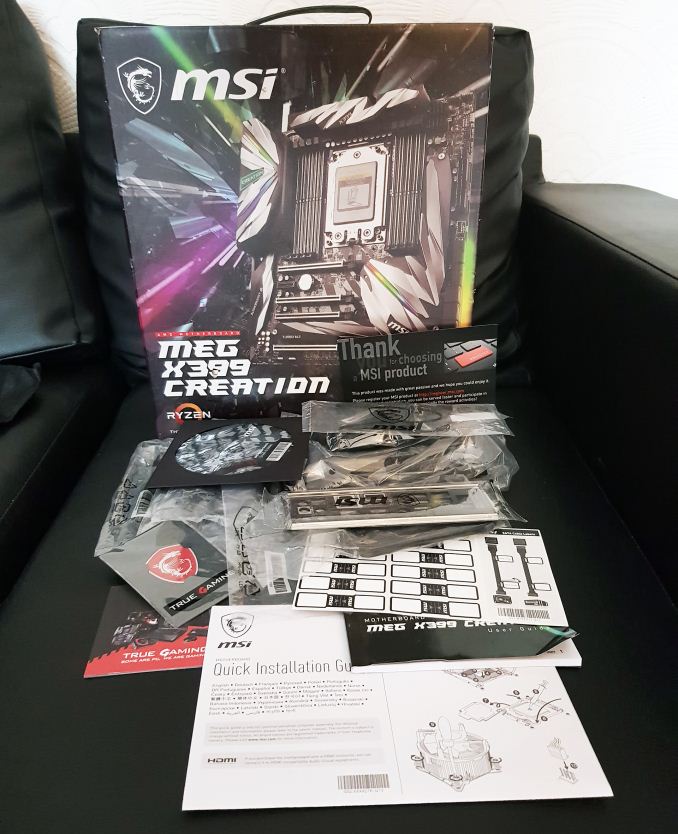 The bundle with the MSI MEG X399 Creation has everything needed to get a system up and running including the 2T2R Wave 2 capable Wi-Fi antenna. The additional thermal probes allow for temperature monitoring at user-defined locations within a system and the graphics cooler inspired Xpander-Aero M.2 PCIe card is a nice and welcomed addition; one would perhaps expect a little more from a $500 flagship motherboard, perhaps a 3-way SLI HB bridge in addition to the 2-way one provided.
User manual and quick start guide
3 x Thermal probes
4 x SATA cables (2 right-angled, 2 straight-angled)
Rear IO shield
MSI Gaming shield sticker
MSI thank you card
2 x RGB extension cables
2-way NVIDIA SLI HB bridge
3 x M.2 mounting screws
2T2R Wave 2 Wi-Fi antenna
Driver installation disk
MSI Xpander-Aero 4-way M.2 PCIe card