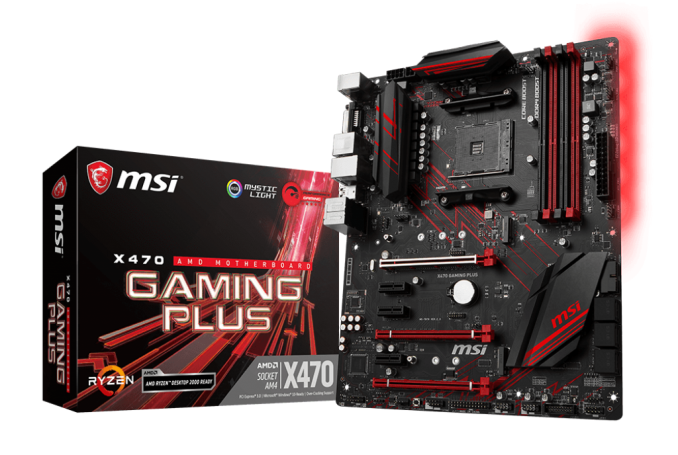 Low budget doesn't necessarily mean low quality, and although there are always exceptions to this rule, MSI looks to break the stigma behind this with their lowest cost X470 chipset motherboard, the X470 Gaming Plus. This model is specifically aimed at gamers looking to be more gingerly with their cash which allows users to potentially upgrade their other components without sacrificing too much on quality. With a selection of components including a Realtek pairing consisting of an ALC892 HD audio codec and RTL8111H Gigabit LAN controller, MSI's attempt to dominate the low to mid-range X470 market with this $120 offering hinges on its implementation and performance.
The MSI X470 Gaming Plus Overview
We've seen a steep increase in 'gaming' branded motherboards over the last half a decade and the one on our test bench today is at the forefront of the 'gaming' mantra. The MSI X470 Gaming Plus is a mid-range gaming themed motherboard which as it currently stands (at the time of writing) is the cheapest full-sized ATX X470 entry-level option at a cost of $120. For the $120 MSI have included a selection of mid-level controllers such as a Realtek ALC892 HD audio codec which offers five 3.5mm gold plated audio jacks and a S/PDIF optical out, as well as a Realtek RTL8111H Gigabit controller powering the single LAN port on the rear panel of the board. Further connections include a pairing of video outputs consisting of a DVI-D and an HDMI 1.4 port. The X470 Gaming Plus is compatible with the Ryzen 2000 series APUs, the Ryzen 5 2400G ($169) and Ryzen 3 2200G ($99) on top of the Ryzen first and second-generation desktop processors. A total of four USB 3.1 Gen1 Type-A ports make up the bulk of the rear panel USB real estate an additional two USB 2.0 ports. MSI has opted to omit any USB Type-C ports and has instead chosen to include two USB 3.1 Gen2 Type-A ports. Users of older keyboard and mice can make use of the included PS/2 combo port.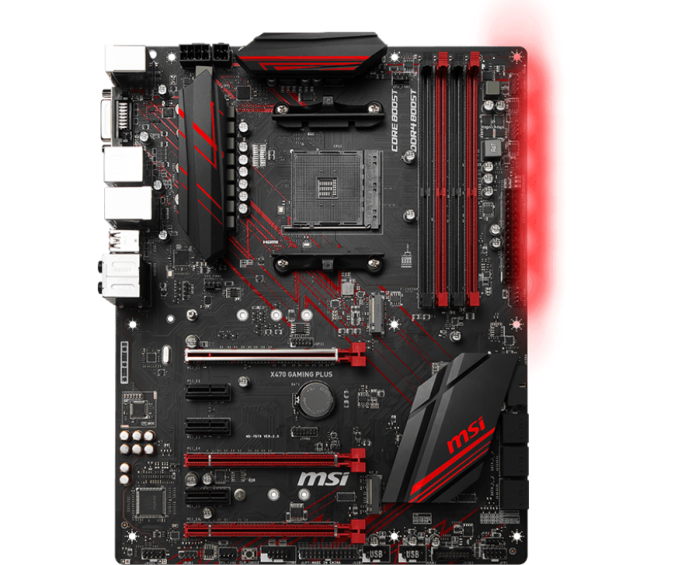 MSI has gone with what they advertise as an 11-phase power design, but upon closer inspection, it's actually pumped up as it is running in 4+2 configuration, with a Richtek RT8894A PWM controller handling things from a power perspective. We go into this more in the review. MSI do include an 8-pin 12V ATX power input for providing power to the CPU as well as an additional 4-pin for users looking to overclock their processors. RGB customization is present on this model with a total of eight underside RGB LEDs located on the right-hand side on the underside of the board. Users wanting to add more RGB or light to their system can do so with the inclusion of two 5050RGB LED 12 V headers. Cooling capability is provided by a total of six 4-pin headers split between one for a CPU fan, one for a water cooling/AIO pump and four dedicated to case fans.
Memory support is good for a mid-range model with DDR4-3466 RAM support out of the box and the X470 Gaming Plus has the capacity for up to 64 GB across the four available memory slots. The storage options include six SATA ports and two M.2 slots; one has PCIe 3.0 x4/SATA support whereas the other supports PCIe 2.0 x4/SATA drives. The X470 Gaming Plus has a total of three full-length PCIe slots with two operating at PCIe 3.0 x16 and the bottom slot operating at PCIe 2.0 x4. In addition to these is three PCIe 2.0 x1 slots for use with expansion cards such as sound cards and RAID cards.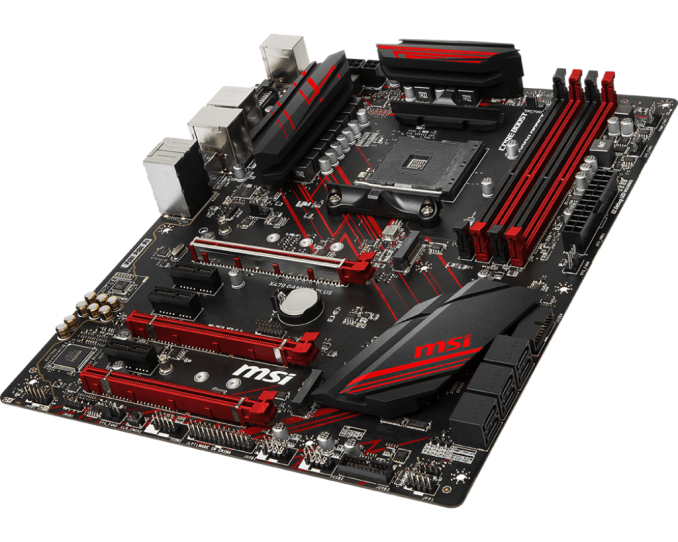 Overall performance from the MSI X470 Gaming Plus is relatively average from our test suite, but on the whole, the performance from our motherboard testing suite was positive and consistent with what was expected from a $120 entry level X470 model. The most positive result from our testing came in the way of power consumption, more specifically power consumption under load with the X470 Gaming Plus achieving one of the lowest results given, which is around 6 watts lower under load at stock than MSI's own B350 Tomahawk which we tested back in March of this year. The biggest disappointment was in our non-UEFI POST time test in which this board gave us the worst performance seen so far, with a total POSTing time of around 26 seconds at default and when stripped; it was actually quite reminiscent of the performance MSI's own MEG X399 Creation TR4 motherboard displayed.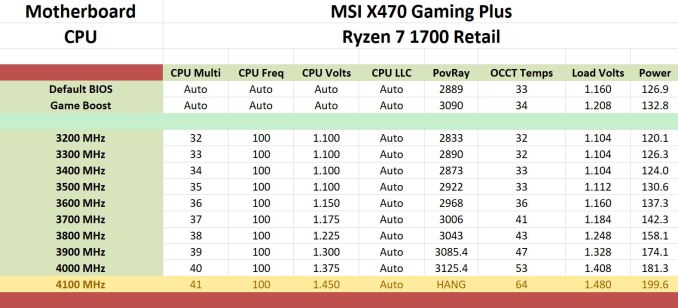 On the overclocking front the X470 Gaming Plus performs respectably, and managed to achieve the 4.0 GHz limit the silicon in our Ryzen 7 1700 processor seems to max out at. The VDroop applied by this board was modest with a maximum of 0.02 V extra applied over the value set within the BIOS at 4.0 GHz. This board does have an additional 4-pin available on top of the 8-pin ATX 12 V CPU power input and MSI advertises an 11-phase power delivery under the heatsinks. Underneath the heatsinks, there is an 11-phase VRM present, but the real configuration is revealed in our visual inspection of the board.
The MSI X470 Gaming Plus is currently priced at $120 on Newegg and represents a gaming-themed entry-level option onto the X470 chipset and AM4 socket. This pricing puts this model in competition with models such as the GIGABYTE X470 Aorus Ultra Gaming at $129, while the lowest cost X470 ATX options from ASUS and ASRock start from upwards of $140. This is the segment of the market where MSI do very strongly and remain highly competitive, MSI even went as far as informing me that the X470 Gaming Plus is their most popular X470 model from a sales perspective.