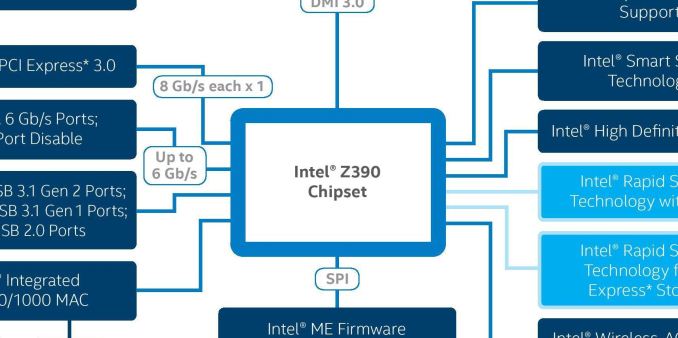 In an unexpected disclosure of information, Intel's Z390 Product Brief documentation went online today. No prior warning was given, and we were expecting something similar to perhaps pop up during Computex in a few weeks, but it would seem that Intel has pulled the plug during a Sunday (which makes me think this was an accidental posting, but I'm not complaining).
Z390 is the second generation of high-end chipset for Intel's 300-series platform for Coffee Lake desktop processors. It builds on Z370 in two obvious areas: chipset support for up to six USB 3.1 (10 Gbps) ports, and introduces a built in wireless networking MAC for dual-band 802.11ac Wi-Fi use via Intel's new integrated connectivity feature. This uses Intel's 802.11ac Wave 2 configuration, suitable for up to 160 MHz wireless bands. These additions mirror what we saw when Intel launched the low-range and mid-range chipsets such as H370, B360, and H310, in early April.
Intel 8th Gen Chipsets (PCH)
AnandTech
Z390
Z370
H370
Q370
B360
H310
Launch
May '18
Oct '17
Apr '18
Apr '18
Apr '18
Apr '18
Market
Consumer
Y
Y
Y
-
Y
Y
Corporate
-
-
Y
Y
Y
-
ME Firmware
?
11
12
12
12
12
HSIO Lanes
30
30
30
30
24
14
Total USB
14
14
14
14
12
10
Max USB 3.1 G2
6
-
4
6
4
0
Max USB 3.1 G1
10
10
10
8
6
4
SATA 6 Gbps
6
6
6
6
6
4
PCH PCIe 3.0 Lanes
24
24
20
24
12
-
PCH PCIe 2.0 Lanes
-
-
-
-
-
6
Max RST PCIe Storage
3
3
2
3
1
0
Supports Optane
Y
Y
Y
Y
Y
N
Integrated 802.11ac
Y
N
Y
Y
Y
Y
Intel Smart Sound
Y
Y
Y
Y
Y
N
Intel vPro
N
N
N
Y
N
N
TDP
?
6 W
6 W
6 W
6 W
6 W
Overall, this disclosure essentially paints a picture of how Coffee Lake CPUs were initially launched. It appears to be that the chipsets with USB 3.1 and integrated Wi-Fi were not expected to be ready when the CPUs were to be launched, and so Z370 came out as a Z270 refresh but for Coffee Lake only. Now that the chipset designs with USB 3.1 and Wi-Fi are ready, we are seeing Z390 as the true high-end chipset for Intel's mainstream platform.
Comparing the Z370 and Z390 general block diagrams side by side showcases the two differences listed above: on the left are the new USB 3.1 ports and on the right is the integrated Wi-Fi MAC. As with other Z-series chipsets, these allow overclocking, and are also not vPro enabled (Q-series only).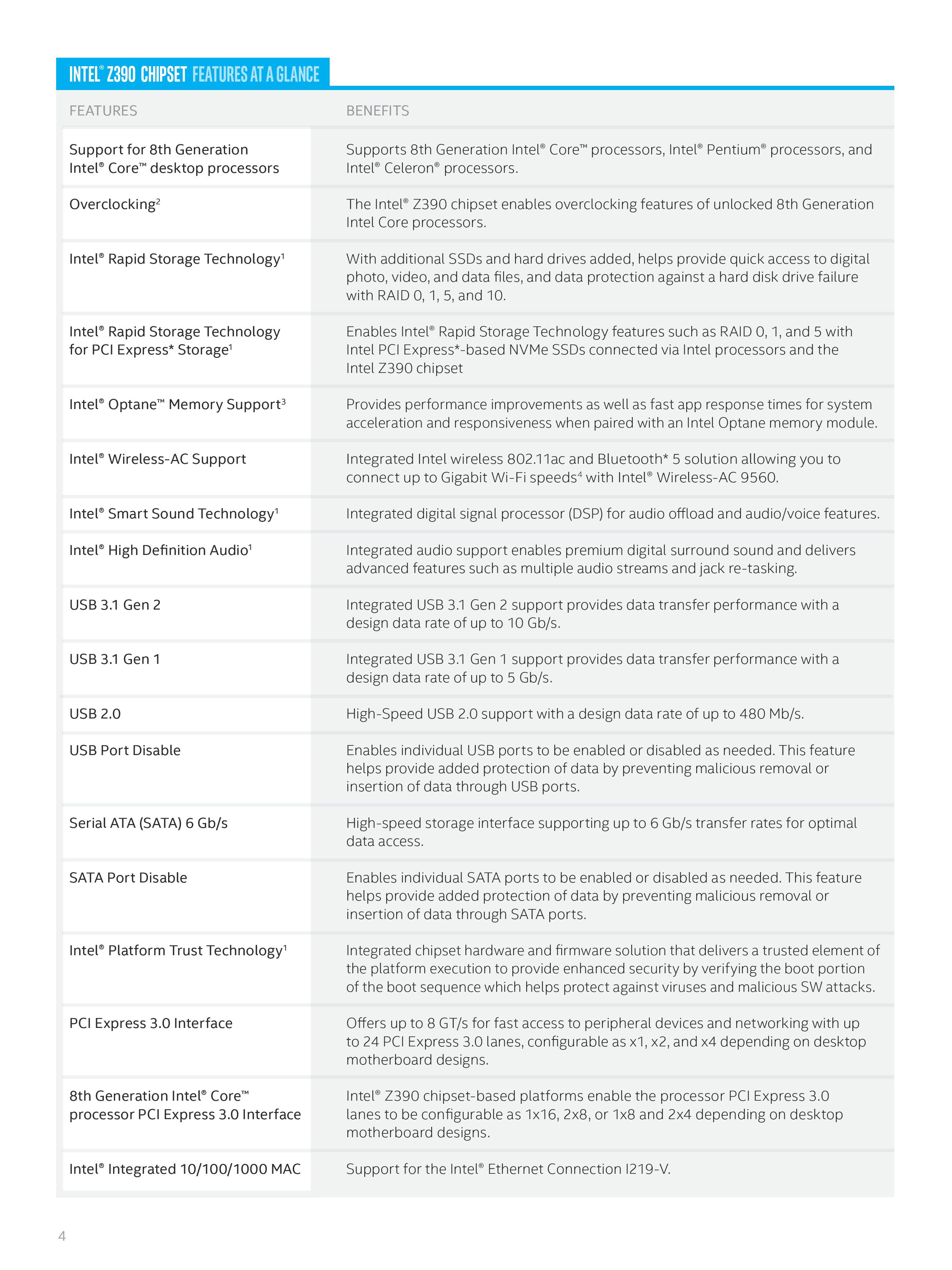 Other standard features include RAID support, RSTe, Optane Memory support (as Boot and non-Boot drives), and HSIO lanes.
Z390 Updates
Taken from our 8th Gen Chipset Analysis
The first headline feature is the integrated 2T2R 802.11ac Wi-Fi support, allowing the latest Wave 2 (160 MHz) channel communications and giving speeds up to 1733 Mbps. Intel states that this is 12x faster than 1T1R 802.11n support provided by low cost solutions, and double the performance of most 2T2R options on the market. Despite Intel support however, not all motherboards that use a chipset that offers this feature will have it implemented: we canvassed some of the manufacturers and were told that the periphery around Wi-Fi support, such as manufacturing, trace layouts, the companion module, antenna, and potential regulatory support (given devices shipping with Wi-Fi) can add an additional $15 cost to the motherboard. While Z390 is the high end chipset, it will span a range of prices from the low $130 range all the way up, so some motherboards may not have this feature in order to save cost.
Intel's Wi-Fi solution relies on its integrated connectivity feature, CNVi, enabled in Gemini Lake and now in the latest 8th Gen processors. This method pushes the large/expensive functional blocks from the Wi-Fi module (such as the logic, MAC, and memory) directly onto the chipset, leaving the PHY and antenna on the companion RF module (CRF). These connect together through the CNVio interface via a specialised M.2 slot. Intel's own webpage on the feature states that it has three different CRFs possible, all under the 'Jefferson Peak' platform codename:
The AC-9560 (the 2T2R module, the only vPro enabled CRF),
The AC-9462 (a 1T1R module with FIPS9 support), and
The AC-9461 (a low-end 1T1R module).
All three CRFs support Linux, Chrome OS, and Windows 10, but are only offered with a 1 year warranty.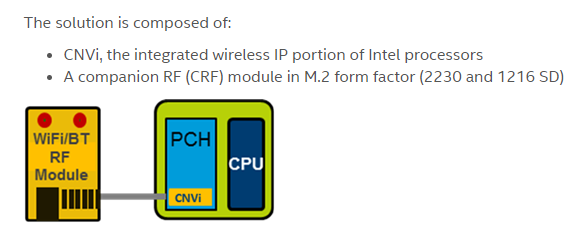 The second headline feature is the support for USB 3.1 Gen 2 (10 Gbps) ports native to the chipset. This is using Intel's own IP, and shows Intel reaching parity with the competition. Motherboard manufacturers will have to use HSIO lanes to enable USB 3.1 Gen 2 (10 Gbps) ports, with up to four being supported on H370/B360, and six being supported on Q370 and Z390. In order to implement a Type-C port, a re-driver is required, as with other Type-C implementations. It will be interesting to see the number of 10 Gbps ports that are put into play on the motherboards available.
Also on the plate for the chipsets are features like Modern Standby/Smart Connect, allowing for systems to update email and such while in a sleep state similar to some laptops. Intel was proud to state that this is the first time the feature has come to the desktop, whereas previously it was seen more as a laptop-focused feature. This is enabled through the chipset and the network connection, and while Intel only lists the 1T1R enabled CRFs as supporting this feature, the 2T2R does as well.
Intel also lists 'ambient computing' as being enabled by the chipset. This allows for wake-on-voice in a low powered mode, much like a smartphone or connected device that the user can call Cortana or Alexa while the system is in screen-off or Modern Standby.
I Just Purchased a Z370 Motherboard, What Should I Do?
The main differences depends on if you use USB 3.1 (10 Gbps) ports, or Wi-Fi. If those features are something already in use on the Z370 board in play, then the only difference is that the Z390 motherboard might* use slightly less power (less than a few watts) or that the Z390 version might* have been slightly cheaper. But if anything, you are not missing out on that much. If you do not use those features, then there is no real loss.
*might: postulated expectations that sound plausible. Until we get the hardware in to test, there is no way of knowing.
What Happens to the Z370 Motherboards?
I fully expect that motherboard manufacturers have manufactured plenty of Z370 models that Z390 will be earmarked mostly for the high-end and that both will be sold side-by-side. For example, ASUS has not launched a Maximus X Extreme yet, neither have ASRock launched an OC Formula on this platform, so it is likely that these will be on Z390 only. I would expect, stock permitting, that new designs down the like, such as future revisions to motherboard designs, will be using the newer Z390 chipsets where it makes sense to do so. However expect reviews of both Z370 and Z390 boards for the next few months at a minimum.
Where Are The Z390 Motherboards?
Computex is the first week of June. Given that Intel has made this disclosure now, it is likely that most motherboard manufacturers will push for the ability to show their designs on the show floor.
Source: Intel (via SH SOTN)
Related Reading