Per-Key Quality Testing
In order to test the quality and consistency of a keyboard, we are using a texture analyser that is programmed to measure and display the actuation force of the standard keyboard keys. By measuring the actuation force of every key, the quality and consistency of the keyboard can be quantified. It can also reveal design issues, such as the larger keys being far softer to press than the main keys of the keyboard. The actuation force is measured in Centinewton (cN). Some companies use another figure, gram-force (gf). The conversion formula is 1 cN = 1.02 gf (i.e. they are about the same). A high quality keyboard should be as consistent as possible, with an average actuation force as near to the manufacturer's specs as possible and a disparity of less than ±10%. Greater differences are likely to be perceptible by users. It is worth noting that there is typically variance among keyboards, although most keyboard companies will try and maintain consistency - as with other reviews, we're testing our sample only.
The machine we use for our testing is accurate enough to provide readings with a resolution of 0.1 cN. For wider keys (e.g. Enter, Space Bar, etc.), the measurement is taking place at the center of the key, right above the switch. Note that large keys generally have a lower actuation force even if the actuation point is at the dead center of the key. This is natural, as the size and weight of the keycap reduces the required actuation force. For this reason, we do display the force required to actuate every key but we only use the results of the typical sized keys for our consistency calculations. Still, very low figures on medium sized keys, such as the Shift and Enter keys reveal design issues and can easily be perceptible by the user.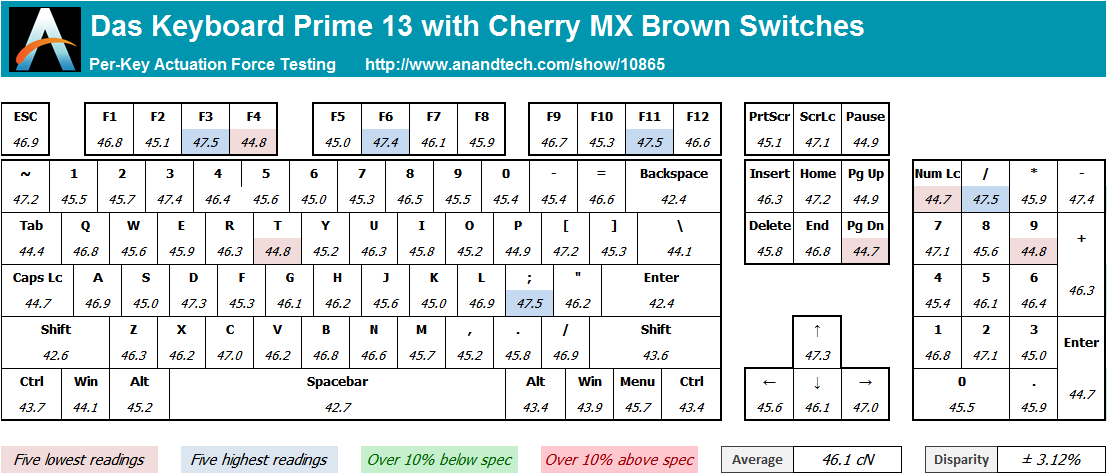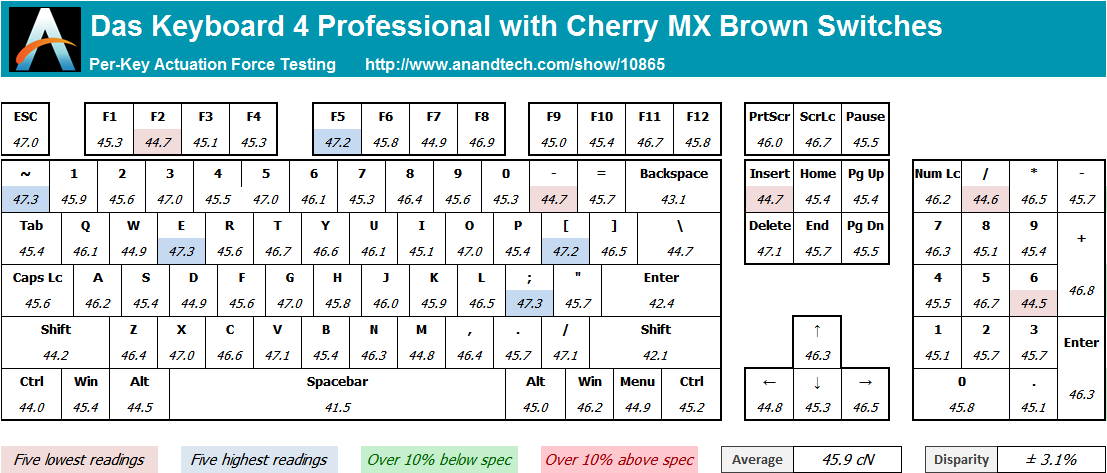 As we expected, there is practically no difference at all between the two keyboards in terms of consistency. The keys on the Das Keyboard Prime 13 have an average actuation force of 46.1 cN. Those of the Das Keyboard 4 Professional have a slightly lower average actuation force, of 45.9 cN. Both of these are a little higher than the 45 cN rating of the Cherry MX Brown switch, but this is consistent with all of our previous tests with keyboards featuring these switches, as tactile switches tend to have a stiffer pressure point before the rated actuation point. The disparity across the main keys of the Das Keyboard Prime 13 and the Das Keyboard 4 Professional was ± 3.12% and ± 3.10% respectively. The disparity testing results were eerily close to each other, most likely by a stroke of luck. Generally, keyboards with Cherry MX Brown switches display a disparity below 5%, with results below 4% considered to be an outstanding display of quality control.
Hands-on Testing
I always try to use every keyboard that we review as my personal keyboard for at least a week. My typical weekly usage includes a lot of typing (about 100-150 pages), a few hours of gaming and some casual usage, such as internet browsing and messaging. As I do not use the USB hubs and backlighting does not affect me, both of the keyboards were practically identical as far as testing purposes were concerned. The following comments mirror my experience with both of the keyboards.
Personally, I find Cherry's MX Brown switches preferable for my professional needs, as they are the least fatiguing tactile switch for long typing/working sessions. Cherry's MX Brown switch provides satisfactory tactile feedback with minimal stress on the tendons. As such, the Das Keyboards were an almost perfect fit for my working hours. I say "almost" because the lack of a palm rest became a definite issue for me past a couple of hours, forcing me to use an aftermarket solution. Using a keyboard this tall without a palm rest can become very uncomfortable after an hour or two. Then again, you are not supposed to be using a keyboard continuously over long periods of time without taking breaks, as such use is a major long-term health hazard, but a palm rest would keep one's wrists much more comfortable for when such occasions arise.
As far as gaming go, the Das Keyboards were very responsive and fun to use. The tactile and audible feedback from the MX Brown switch was excellent and, in my opinion, significantly less intrusive than the loud clicking of the MX Blue counterpart. MMO gamers will heavily feel the lack of programmability, as they will not be able to change the layout of the keyboards or issue macro/text commands without the use of third-party software. For single-player games however, the Das Keyboards will not disappoint.