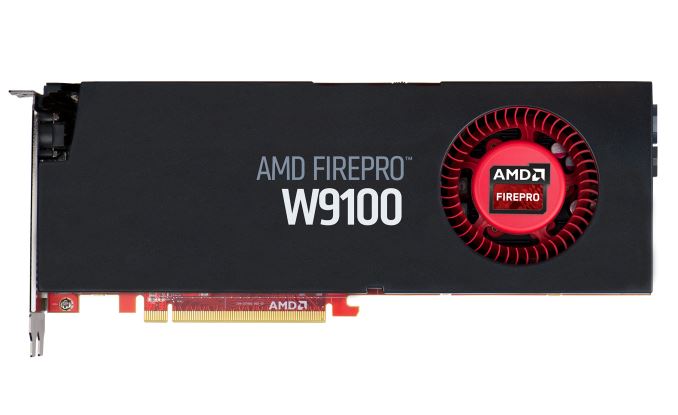 Thanks to the further proliferation of 8Gb GDDR5 memory modules, we've seen an uplift over the last few months with the memory capacity of professional graphics cards. For the professional graphics market this is always a welcome development, as datasets are already massive and always growing, especially in the content creation field.
Due to various technical considerations – primarily a larger memory bus – over the past generation AMD has traditionally offered the highest capacity professional graphics cards, with the current FirePro W9100 topping out at 16GB. More recently, last month NVIDIA surpassed AMD with the launch of the 24GB Quadro M6000. However this week in advance of the 2016 NAB Show, AMD is firing back and retaking the top spot with their own capacity bump, updating the FirePro W9100 to 32GB.
AMD FirePro W Series Specification Comparison
AMD FirePro W9100 (32GB)
AMD FirePro W9100 (16GB)
AMD FirePro W9000
AMD FirePro W8100
Stream Processors
2816
2816
2048
2560
Texture Units
176
176
128
160
ROPs
64
64
32
64
Core Clock
930MHz
930MHz
975MHz
824MHz
Memory Clock
5Gbps GDDR5
5Gbps GDDR5
5.5Gbps GDDR5
5Gbps GDDR5
Memory Bus Width
512-bit
512-bit
384-bit
512-bit
VRAM
32GB
16GB
6GB
8GB
Double Precision
1/2
1/2
1/4
1/2
Transistor Count
6.2B
6.2B
4.31B
6.2B
TDP
275W
275W
274W
220W
Manufacturing Process
TSMC 28nm
TSMC 28nm
TSMC 28nm
TSMC 28nm
Architecture
GCN 1.1
GCN 1.1
GCN 1.0
GCN 1.1
Warranty
3-Year
3-Year
3-Year
3-Year
Launch Price (List)
$4999
$3999
$3999
$2499
Launch Date
Q2 2016
April 2014
August 2012
July 2014
The updated FirePro W9100 takes off right where the previous model left off. Based around a fully enabled version of AMD's Hawaii GPU, the specifications outside of memory capacity are unchanged. As for the memory itself, this update sees AMD replace their 4Gb GDDR5 chips with 8Gb chips, moving from a 32 x 4Gb configuration to a 32 x 8Gb configuration. Consequently any possible performance impact is data set size dependent. Performance essentially doesn't change for data sets that fit within memory, while sets between 16GB and 32GB that were slow before because they didn't fit on the card will now be able to be loaded in their entirety.
With their latest capacity bump, AMD becomes the first company to ship a 32GB pro graphics card, and consequently retakes their top spot in the market. At the same time AMD will have final bragging rights for this generation, as AMD and NVIDIA have now both maxed out the memory capacity of their current cards.
The 32GB FirePro W9100 will be launching this quarter through AMD's usual distribution and OEM partners. The MSRP will be $4999, which is closely aligned to competitor NVIDIA's own pricing, though also higher than the 16GB card it supplants. Meanwhile AMD will continue to ship the 16GB card as well, and while there isn't a current MSRP attached to it, it's currently available from retailers for around $3000.