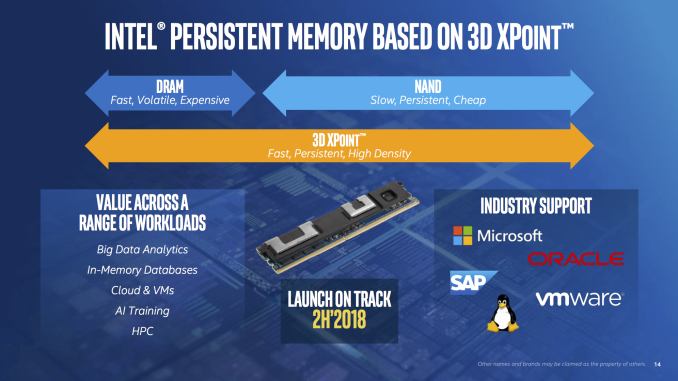 Presenting at the UBS Global Technology Conference today, Navin Shenoy, Intel Executive Vice President and General Manager of their Data Center Group, shared an update on Intel's roadmap for 3D XPoint DIMMs. Intel claims that they are on track to launch 3D XPoint memory modules in the second half of 2018. They are projecting that 3D XPoint DIMMs will be an $8B market by 2021.
After launching several Optane SSD products this year based on 3D XPoint memory, Intel had said almost nothing about their progress toward 3D XPoint DIMM memory modules. Intel first publicly showed a prototype 3D XPoint NVDIMM in January 2016, only a few months after unveiling 3D XPoint memory itself. When the first Optane products launched earlier this year, we were told Intel would have more to say on the subject of 3D XPoint DIMMs in 2018, but today's announcement makes it clear they will be selling the actual hardware within about a year.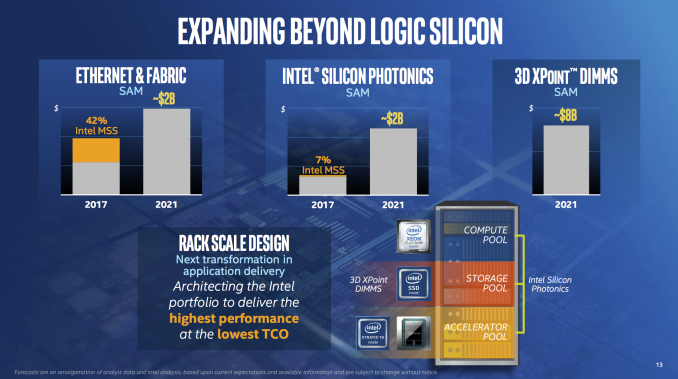 The launch of 3D XPoint DIMMs will depend on several pieces coming together. First, Intel's 3D XPoint memory must be sufficiently mature to meet the performance and endurance requirements of DIMM-based usage. Their Optane SSDs have all used a PCIe and NVMe interface that adds substantial latency overhead and makes it difficult to assess how close the underlying 3D XPoint memory can come to DRAM performance levels. The Optane SSDs are also shipping with relatively conservative write endurance ratings relative to the eventual expectations for 3D XPoint products: The Optane SSD DC P4800X's 30 drive writes per day for 5 years is not significantly higher than high-endurance flash-based enterprise SSDs can provide.
Second, Intel will need to continue increasing production of 3D XPoint memory as their family of Optane SSDs expands and is joined by 3D XPoint DIMMs. Yesterday, Intel and Micron celebrated the completion of an expansion to building 60 of their IM Flash production facilities in Lehi, Utah. This will significantly increase their production capacity of 3D XPoint memory. So far, Intel seems to have been using almost all of the production of 3D XPoint memory for their Optane products while Micron has yet to publicly introduce any mass-produced 3D XPoint-based products. Micron will most likely start announcing and shipping 3D XPoint products under their QuantX brand within the next year, so Intel won't be getting the full benefit of this capacity boost.
Third, 3D XPoint DIMMs will require server platform support because they are unlikely to operate as standard DDR4 DIMMs. The JEDEC NVDIMM-P standard for persistent memory DIMMs has not been finalized and is expected next year. It's not certain whether the 3D XPoint DIMMs will adhere to the NVDIMM-P standard or if they will use a proprietary interface, but either way they are likely to require updated CPU and motherboard support. Intel's recently-launched Xeon Scalable platform can support DRAM+flash NVDIMM-N modules. The launch next year of 3D XPoint DIMMs may foretell a simultaneous refresh of the Xeon Scalable platform.
Source: Intel